Tsai vows 'new age' at opening event
TRYING AGAIN: Kaohsiung Mayor Chen Chu said the DPP deserves another chance, adding that Tsai Ing-wen is capable of leading Taiwan out of its current problems
Promising to lead Taiwan into a new age of tolerance, reconciliation, stability and peace, Democratic Progressive Party (DPP) presidential candidate Tsai Ing-wen (蔡英文) yesterday inaugurated her national campaign headquarters in front of a crowd of supporters in Taipei.
Tsai made her way slowly through the supporters — who greeted her with: "Hello, president," and "victory for Tsai Ing-wen" — to reach the main stage outside of the building, where she announced its formal opening.
She asked DPP members holding public office, from borough wardens to local government heads and councilors, lawmakers, as well as support groups, to mobilize all the support they can to help the party win the January presidential and legislative elections.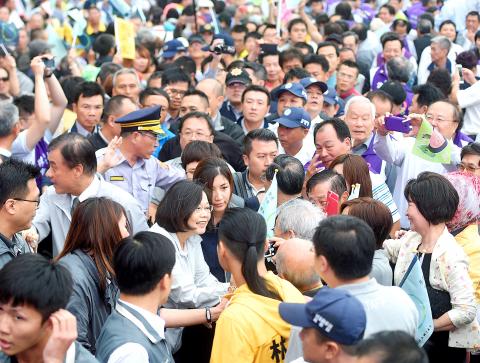 Democratic Progressive Party presidential candidate Tsai Ing-wen, center, wearing glasses, shakes hands with supporters in Taipei at yesterday's opening of her campaign headquarters.
Photo: Fang Pin-chao, Taipei Times
"The fight for political interests could never bring peace and prosperity for the people, and the struggle for power would not take the nation forward," Tsai told the crowd. "Politics should be as simple as possible; it should respond directly to the needs of the people, it should help to solve the problems for the people and this is what I want to do for Taiwan."
Tsai said that, if elected, she would form a government that makes stability and prosperity of the public a priority, adding that social progress should be the nation's most pressing issue.
"My politics is the politics of solving problems for the people. My politics is the politics of fulfilling dreams for the people," Tsai said, adding that she is confident she would be able to honor her words.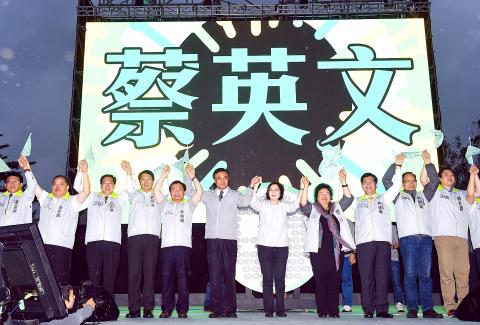 Democratic Progressive Party presidential candidate Tsai Ing-wen, fifth right, and leading party members hold hands and cheer at the opening of her campaign head office in Taipei yesterday.
Photo: Fang Pin-chao, Taipei Times
Kaohsiung Mayor Chen Chu (陳菊), who is Tsai's campaign manager, urged people to give the DPP another chance at running the nation, saying that Tsai is capable of leading the nation out of the difficulties it is facing, just as she led the DPP to stand up again following its defeat in the 2008 presidential election.
"At the DPP's most difficult time, when it was on the verge of collapse, Tsai was brave enough to shoulder the responsibilities to lead the party," Chen said. "Throughout the years, Tsai has led the party through storms, enabling us to see how strong, hard-working and professional she is as a leader."
Chen said that instead of being tragic heroes who were jailed or had to constantly escape government repression — issues she said her generation of politicians faced — "Tsai represents a new generation of politicians who are calm and professional."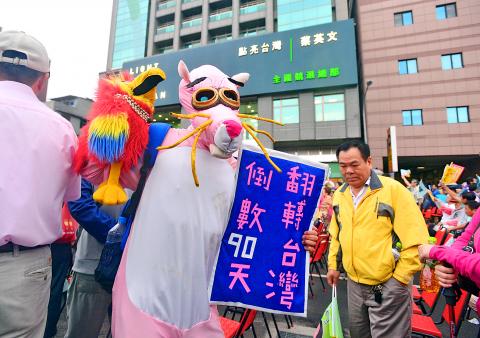 A supporter dressed as the Pink Panther outside Democratic Progressive Party presidential candidate Tsai Ing-wen's campaign office in Taipei yesterday holds a sign marking 90 days until the vote.
Photo: Wang Yi-sung, Taipei Times
There were several booths set up to accept piggy banks filled with donations and there were long lines of supporters in front of the booths.
More than 2,000 piggy banks were submitted to the campaign headquarters during the event alone, according to DPP data.
Some waited in line to browse the "Ing Store" to purchase official campaign souvenirs, while others lined up before an automatic donation machine, which accepted notes and coins, as well as printed receipts.
The event featured musical performances, as well as a market selling locally grown agricultural products and handmade items.
Comments will be moderated. Keep comments relevant to the article. Remarks containing abusive and obscene language, personal attacks of any kind or promotion will be removed and the user banned. Final decision will be at the discretion of the Taipei Times.