US, China agree to establish military hotline, rules for air-to-air encounters
The US on Friday announced agreements with China on a military hotline and rules of behavior to govern air-to-air encounters, just days after the Pentagon criticized China over an unsafe intercept of a US reconnaissance aircraft.
The agreements were unveiled following talks in Washington between Chinese President Xi Jinping (習近平) and US President Barack Obama, and seek to lessen the chance of an accidental flare-up between the two militaries, despite tensions in the South China Sea.
"We agreed to new channels of communication to reduce the risks of miscalculations between our militaries," Obama told a White House news conference, with Xi standing beside him.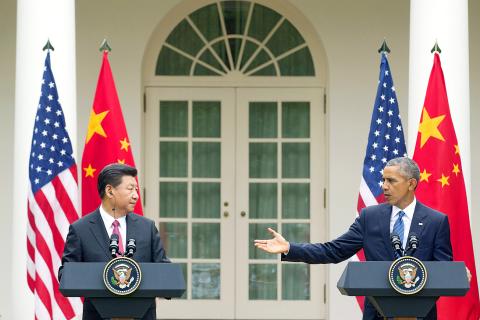 US President Barack Obama, right, and President of China Xi Jinping hold a joint news conference in the Rose Garden of the White House, in Washington, DC on Friday.
Photo: EPA
The new agreement on rules of behavior for air-to-air encounters was broad in scope, addressing everything from the correct radio frequencies to use during distress calls to the wrong physical behaviors to use during crises.
"Military aircrew should refrain from the use of uncivil language or unfriendly physical gestures," read one provision of the agreement.
Another agreement created formal rules to govern use of a military crisis hotline, a move that aims to enhance top-level communication.
The Pentagon says two Chinese JH-7 fighter jets intercepted a US RC-135 reconnaissance airplane, with one fighter passing within just 150m of the US aircraft. The intercept took place on Sept. 15, about 130km east of the Shandong Peninsula in the Yellow Sea.
The Pentagon reported a far more dangerous intercept in August last year, when a Chinese warplane flew as close as 7m to 10m to a US Navy patrol jet and conducted a barrel roll over the airplane.
One US defense official said the US will expect "full compliance" with the agreement.
The intercepts are examples of moves seen as an assertion of the expanding reach of China's military. This month, five Chinese People's Liberation Army Navy ships sailed in the Bering Sea off Alaska.
Closer to home, China's territorial claims have stoked tensions. Beijing claims most of the South China Sea, through which US$5 trillion in ship-borne trade passes every year.
Obama expressed concerns about Chinese militarization of artificial islands in the South China Sea to Xi, but Xi denied any plan to establish military strongholds there.
"I conveyed to President Xi our significant concerns over land reclamation, construction and the militarization of disputed areas, which makes it harder for countries in the region to resolve disagreements peacefully," Obama said.
China has said repeatedly that the artificial islands it has built up on disputed reefs would be used for military defense and analysts say satellite pictures show it has completed one military-length runway and appears to be working on two more.
US Pacific Command head US Navy Admiral Harry Harris told the Aspen Security Forum in July that China was building hangers on one of the reefs that appeared to be for tactical fighter aircraft.
However, Xi denied that militarization was taking place.
"Relevant construction activity that China is undertaking in the Nansha Islands (南沙群島) does not target or impact any country and there is no intention to militarize," Xi said, using the Chinese name for the disputed Spratly Islands, which are also claimed in whole or in part by Taiwan, Vietnam, Brunei, Malaysia and the Philippines.
"Islands in the South China Sea since ancient times are Chinese territory," Xi said. "We have the right to uphold our own territorial sovereignty and lawful legitimate maritime rights and interests."
Xi also reiterated that China is committed to freedom of navigation in the sea and to resolving disputes through dialogue.
He said Beijing and Washington had a shared interest in this regard.
Washington analysts and US officials say the militarization of the islands has already begun and the only question is how much military hardware China will install.
US experts say satellite photographs from early this month also show China was carrying out dredging work around the artificial islands, a month after saying it had stopped.
Harris last week said that China's runway building and further militarization of the artificial islands was of "great concern" and posed a threat to all countries in the region.
Comments will be moderated. Keep comments relevant to the article. Remarks containing abusive and obscene language, personal attacks of any kind or promotion will be removed and the user banned. Final decision will be at the discretion of the Taipei Times.