Officials find 349 dogs at illegal puppy farm in Taipei
Authorities found 349 pedigree dogs at an illegal pet breeding facility in Taipei's Beitou District (北投) on Friday, the largest underground puppy mill to be discovered in the city.
Officials seized four dogs and a number of medications and insemination kits during the raid, and issued four fines totaling NT$600,000 to a pet breeder surnamed Kang (康) for unlicensed breeding and selling of animals and failure to have the animals registered and vaccinated for rabies, Taipei City Animal Protection Office Director Yen I-feng (嚴一峰) told a news conference yesterday.
It was the largest fine ever levied against an illegal pet breeder by the city government, Yen said.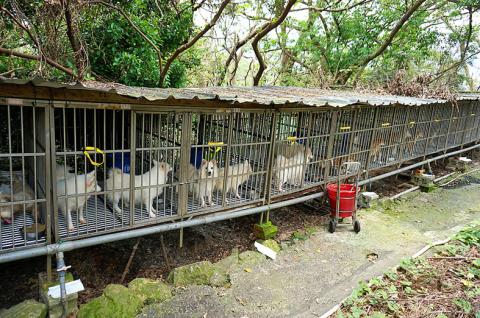 Dogs are kept in locked cages at an illegal breeding facility in Taipei's Beitou District yesterday.
Photo: CNA, provided by the Taipei City Animal Protection Office
The office seized only four dogs, as they were in critical condition, leaving the remaining 345 animals in Kang's custody, because the Animal Protection Act (動物保護法) stipulates that authorities can only confiscate abused, abandoned or dangerous animals, Yen said, adding that the facility was well-kept and that the animals were in generally good condition.
The office has begun conducting daily inspections at the site to ensure that the dogs continue to be taken care of, he said, adding that the four seized dogs have died.
In March, the office received a tip about the puppy mill, which is in a secluded hilly area in Beitou, and spent six months investigating and coordinating with police to acquire a search warrant, Yen said.
All dogs bred and kept at the facility are breeds popular on the pet market, including poodles, Welsh corgis, shiba inus, dachshunds, Chihuahuas and bulldogs, Animal Rescue Squad Director Hua Hsin-hui (華心惠) said, adding that some animals had skin diseases and paronychia, or inflammation of the soft tissue around their claws, due to long-term captivity in cages.
As animals are legally defined as property, the office can only try to persuade Kang to voluntarily give up the dogs before transferring them to adoptive families, Yen said.
Kang had been operating for more than 20 years, Yen said, adding that it would track down veterinarians suspected of having cooperated with the breeder.
The exact number of dogs bred and sold by Kang over the years was not immediately known, he said.
There are 661 licensed pet breeders in the nation listed on the Council of Agriculture's Web site, but there are none in Taipei, Yen said.
The office plans to cooperate with the New Taipei City Government to clamp down on illegal pet breeding and trading, as many pets sold in Taipei are transported from New Taipei City, he said.
Taiwan Society for the Prevention of Cruelty to Animals inspector Hsu Ting-hsiang (徐鼎翔) said that existing laws only allow fines for illegal pet breeders of up to NT$250,000 for a single offense, which is disproportionate to their gains, and he called on the government to raise the maximum penalty to curb illegal breeding.
He also called on the government to establish a pet transaction tracking system to give authorities a better means of source management and consumers a more transparent mechanism to purchase animals from licensed breeders.
Comments will be moderated. Keep comments relevant to the article. Remarks containing abusive and obscene language, personal attacks of any kind or promotion will be removed and the user banned. Final decision will be at the discretion of the Taipei Times.