Hundreds die as migrants head to Europe
Libya yesterday recovered the bodies of 82 migrants washed ashore after their overcrowded boat sank on its way to Europe, while Austria said 71 refugees, including a baby girl, had been found dead in the back of an abandoned freezer truck.
Three people were arrested in Hungary in connection with the truck deaths and Austrian police said they suspected a Bulgarian-Hungarian trafficking ring was responsible.
The victims — 59 men, eight women and four children, including a girl estimated at one to two years old — were probably from Syria, police said.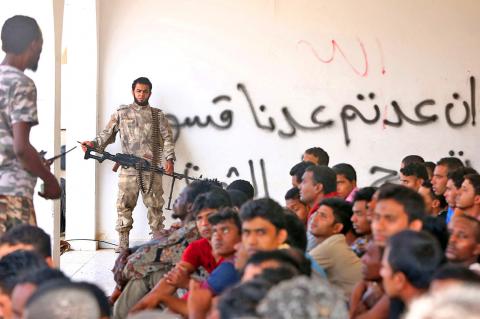 An armed man stands guard as migrants rescued by Libyan coast guards after their boat sank on Thursday sit in a security center between the coastal cities of Subrata and Zuwara, west of the capital, Tripoli, yesterday.
Photo: AFP
At least 180 were either dead or missing in the Libyan disaster. Both tragedies were a result of a renewed surge in migrants seeking refuge from war and poverty that has confronted Europe with its worst refugee crisis since World War II.
The UN High Commissioner for Refugees said the number of refugees and migrants crossing the Mediterranean to reach Europe had passed 300,000 this year, up from 219,000 for the whole of last year.
More than 2,500 have died making the crossing this year, the UN refugee agency said, compared with 3,500 who died or went missing in the Mediterranean last year.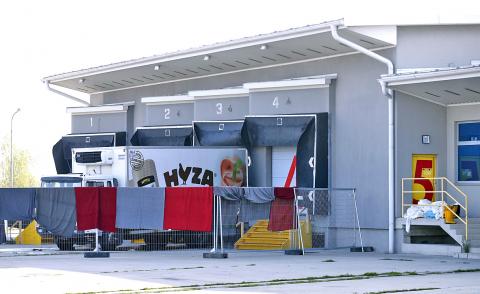 A truck discovered abandoned on an Austrian motorway containing 71 bodies sits at a customs building with refrigeration facilities in the village of Nickelsdorf, Austria, yesterday.
Photo: Reuters
A security official in the western Libyan town of Zuwara, from where the doomed migrant boat had set off, said there had been about 400 people on board. Many appeared to have been trapped in the hold when it capsized on Thursday.
"About 100 people are still missing," said Ibrahim al-Attoushi, a Red Crescent official, and about 198 had been rescued.
The migrants were from sub-Saharan Africa, Pakistan, Syria, Morocco and Bangladesh, the security official said.
The Italian coast guard said 1,430 people had been rescued in various operations off Libya on Thursday, and a merchant ship sent to the aid of a small boat carrying 125 people recovered two bodies.
In Europe, refugees and migrants have swept north through the Balkans in recent days, with thousands of Syrians, Afghans and Pakistanis crossing from Serbia into EU-member Hungary, where authorities said more than 140,000 had been caught entering the country so far this year.
Austrian police had originally put the death toll in the truck found abandoned near the Hungarian border on Thursday at about 50, but later raised the figure to 71.
The refrigerated vehicle was found by an Austrian motorway patrol with fluids from the decomposing bodies seeping from its back door. It had been abandoned on the side of the highway that leads from Hungary to Vienna.
The truck is at a customs building in the village of Nickelsdorf, which has refrigeration facilities and where forensic specialists in white protective suits and yellow rubber boots could be seen wheeling body bags away.
Comments will be moderated. Keep comments relevant to the article. Remarks containing abusive and obscene language, personal attacks of any kind or promotion will be removed and the user banned. Final decision will be at the discretion of the Taipei Times.