Yemen on precipice of famine due to war: UN
The war in Yemen has pushed the country to the brink of famine, with both commercial food imports and aid deliveries held up by the fighting and millions of hungry women and children facing possible starvation, the UN said on Wednesday.
UN World Food Programme (WFP) executive director Ertharin Cousin said that while some food aid is flowing in, fighting around major ports is stalling deliveries, while reaching the country's interior is proving difficult and donor funding is still falling short.
"If we do not receive the additional access that is required to meet the needs of those who are affected by this ongoing conflict, if we cannot support the commercial markets by ensuring that the ports are open and providing food to ensure that those who have resources can buy the food that is necessary, and if we do not see increased donor support, we are facing the perfect storm in Yemen," she told reporters in Cairo.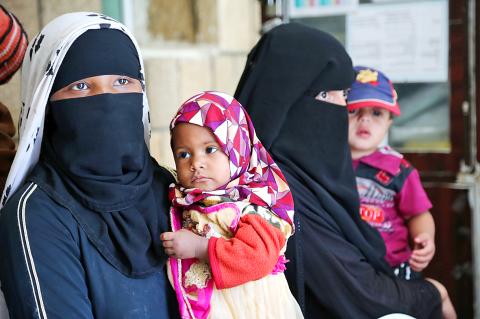 Women hold their children in Yemen's capital, Sana'a, during a visit by World Food Programme executive director Ertharin Cousin on Tuesday.
PHOTO: AP
Cousin was in Cairo following a three-day trip to Yemen.
The WFP says all sides in the conflict must approve food deliveries.
UN Under-Secretary-General for Humanitarian Affairs and Emergency Relief Coordinator Stephen O'Brien, who also just returned from Yemen, told the UN Security Council "the scale of human suffering is almost incomprehensible."
He said he was shocked by what he saw: Four out of five Yemenis are in need of humanitarian assistance, nearly 1.5 million people are internally displaced, and people were using cardboard for mattresses at a hospital where lights flickered, the blood bank had closed and there were no more examination gloves.
The humanitarian situation has steadily deteriorated since the fighting picked up in March, when Saudi Arabia launched a US-backed coalition air campaign against Houthi forces and their allies, which control large swaths of the country, including the capital.
Comments will be moderated. Keep comments relevant to the article. Remarks containing abusive and obscene language, personal attacks of any kind or promotion will be removed and the user banned. Final decision will be at the discretion of the Taipei Times.