Lai issues threat to end Control Yuan
Tainan Mayor William Lai (賴清德) yesterday said he might seek to abolish the Control Yuan as he vowed to continue his boycott of Tainan City Council meetings, despite facing possible censure by the Public Functionary Disciplinary Sanction Commission after the Control Yuan's decision to impeach him.
Lai, a member of the Democratic Progressive Party (DPP), has not attended Tainan City Council meetings since he was sworn in as mayor in December last year, saying he would not do so until a case involving Chinese Nationalist Party (KMT) Tainan City Council Speaker Lee Chuan-chiao (李全教) is resolved.
A first-round court found Lee guilty of giving money to councilors in exchange for support in last year's speakership election, but he has appealed the decision.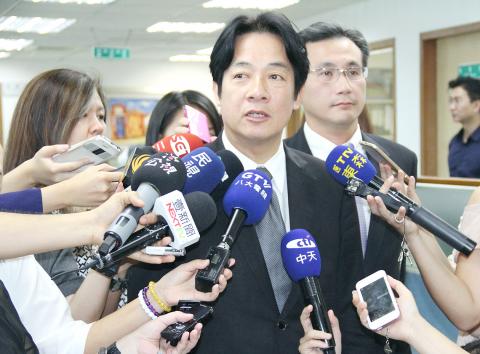 Tainan Mayor William Lai yesterday talks to journalists in Taipei, saying that he plans to seek a constitutional interpretation after the Control Yuan recently issued a correction against him.
Photo: CNA
Earlier this month, the Control Yuan impeached Lai, referring him to the commission for disciplinary action, which could include revocation of his role as mayor.
"If the commission decides to issue further sanctions, I will file a lawsuit to abolish the Control Yuan to defend my rights and constitutional principles, as well as not allowing the Control Yuan to illegally expand its power," Lai said.
"Society has already reached a consensus to abolish the Control Yuan, because it is not only against constitutional principles, but has also become a tool for political manipulation," he said. "It should be abolished for the nation's sake and societal stability."
If the commission asks him to explain himself, he would not attend a summons, Lai said, adding that he would reply in writing, because he is busy handling municipal affairs.
The DPP's Central Standing Committee yesterday passed a resolution to push for a revision of the Local Government Act (地方制度法), requiring councilors to include their names on ballots when voting for speakership and deputy-speakership roles, Lai said, adding that a speaker or deputy speaker should be suspended if they are found guilty in a first-round trial.
"The measure is meant as the first step to clear the influence of black money in local politics," Lai said. "I believe that, if implemented, the rule would help keep local politics clean."
Comments will be moderated. Keep comments relevant to the article. Remarks containing abusive and obscene language, personal attacks of any kind or promotion will be removed and the user banned. Final decision will be at the discretion of the Taipei Times.