Thai junta says suspect identified in 'worst' bombing
Thai Prime Minister Prayuth Chan-ocha yesterday said a suspect had been identified in the bombing of a packed Bangkok religious shrine, condemning the blast that killed at least 20 people as the "worst-ever attack" on the kingdom.
The blast occurred on Monday in one of the Thai capital's most popular tourism hubs, ripping through a crowd of worshipers at a Hindu shrine close to five-star hotels and upscale shopping malls.
Taiwanese, Chinese, Hong Kongers, Singaporeans, Indonesians and Malaysians were among at least 20 people killed, police said.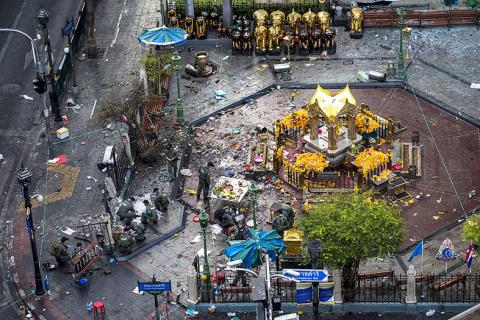 Experts investigate the Erawan shrine at the site of a deadly blast in central Bangkok, Thailand yesterday.
Photo: Reuters
More than 100 other people were injured as the blast left body parts strewn across crushed pavement, alongside shattered windows and incinerated motorcycles.
Prayuth yesterday branded the bombing the "worst-ever attack" on Thailand, as he said the hunt was on for a suspicious man filmed on closed circuit television near the shrine.
"Today there is a suspect... We are looking for this guy," Prayuth told reporters.
Police released CCTV footage showing the apparently young man in a yellow T-shirt walking near the shrine wearing a backpack, but then a short time later walking away without it.
"Things are becoming clearer now," Thai Minister of Defense Prawit Wongsuwon told reporters, although he declined to give details and authorities did not reveal if they had any motives for the attack.
Prayuth said the male suspect was believed to be from an "anti-government group based in Thailand's northeast" — the heartland of the kingdom's Red Shirt movement that opposes the military junta.
Bangkok has endured more than a decade of deadly political violence, with the junta ruling the nation since May last year after toppling the elected government of then-Thai prime minister Yingluck Shinawatra. The Red Shirts are a grassroots network of rural and urban poor that are loyal to Yingluck and her self-exiled brother, former Thai prime minister Thaksin Shinawatra.
However, no one claimed responsibility for the assault and security analysts expressed skepticism over the government's lightning move to cast suspicion on its opponents.
"Even if they [Red Shirts] are hell-bent on bringing down the government, I just can't see them targeting a Hindu or any other religious shrine," independent expert on Thai security Zachary Abuza said. "That would really alienate many of their supporters."
Muslim rebels from the country's far south have also waged a separatist insurgency for more than a decade that has claimed thousands of lives, mostly civilians.
However, they have never been known to carry out substantial attacks in Bangkok, and Abuza and other analysts said Monday's bombing did not follow the insurgents' typical modus operandi.
Paul Chambers, director of research at the Institute of South East Asian Affairs in Thailand, said groups with links to military factions also had to be considered potential suspects.
Comments will be moderated. Keep comments relevant to the article. Remarks containing abusive and obscene language, personal attacks of any kind or promotion will be removed and the user banned. Final decision will be at the discretion of the Taipei Times.