Japan marks end of WWII amid neighbors' criticism
Japan yesterday marked the 70th anniversary of the end of World War II under criticism from China and South Korea, which said Japanese Prime Minister Shinzo Abe's war anniversary speech failed to properly apologize for Tokyo's past aggression.
In a move likely to further strain relations, a trio of Cabinet ministers visited the controversial Yasukuni Shrine, which neighboring countries see as a symbol of Tokyo's militarist past.
Memorial services on the day Japan surrendered to the Allies in 1945 come after Abe on Friday delivered a closely watched speech that expressed regret, but also said future generations need not apologize for Japan's war record.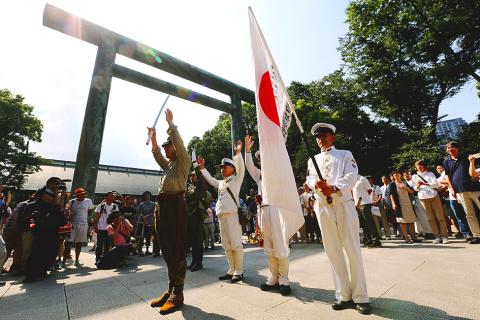 People dressed in military uniforms raise their arms as a man holds a Japanese national flag at the Yasukuni Shrine in Tokyo, Japan, yesterday.
Photo: Bloomberg
His remarks were welcomed by the US, but blasted by China as a non-apology, while Pyongyang derided it as "an unpardonable mockery of the Korean people."
South Korean President Park Geun-hye said his speech "left much to be desired" and stressed the need for Japan to resolve the issue of Asian women forced to work as sex slaves in Japanese military brothels.
However, the Philippines, another wartime foe, said it had rebuilt a "strong friendship" with Tokyo.
Likewise, Australian Prime Minister Tony Abbott said Abe's remarks "should make it easier for other countries to accept Japan's commitment to a better future for all, and to strengthen their own friendships with Japan."
Earlier, Japanese Minister in charge of Women's Empowerment Haruko Arimura entered the gates of Yasukuni, which is dedicated to millions of Japanese who died in conflicts — but also includes 30,304 Taiwanese who died in World War II and a museum that paints Japan as a victim of US aggression.
It makes scant reference to the brutality of invading Imperial Japanese troops when they stormed through Asia — especially China and Korea — in the 20th century.
About 60 politicians, including Japanese Minister of Internal Affairs and Communications Sanae Takaichi and Japanese Minister of State for Disaster Management Eriko Yamatani, walked down the shrine's stone path yesterday, along with thousands of other visitors.
"How we console the souls [of war victims] is a matter for individual countries — it should not be a diplomatic issue," Takaichi told reporters, responding to questions about possible negative reactions from Beijing and Seoul.
The visits every Aug. 15 enrage neighboring nations, which view them as an insult and painful reminder of now-pacifist Japan's history, including its brutal occupation of the Korean Peninsula.
The grandson of a wartime Cabinet minister, Abe was not expected to visit the leafy shrine, sending a ritual offering instead. His late 2013 visit drew an angry response from Beijing and Seoul, as well as a rebuke from close ally Washington.
Founded in 1869, the Shinto shrine honors about 2.5 million Japanese who died in World War II and other conflicts, along with 14 indicted war criminals including general Hideki Tojo, who authorized the attack on Pearl Harbor, drawing the US into the war.
"The people who are enshrined died for the country — I'm here alive thanks to them," said 70-year-old Hideko Horie, whose father died fighting in the Philippines when she was just an infant.
Comments will be moderated. Keep comments relevant to the article. Remarks containing abusive and obscene language, personal attacks of any kind or promotion will be removed and the user banned. Final decision will be at the discretion of the Taipei Times.