Greece agrees on broad terms of new bailout deal
PROGRESS: Athens and its creditors said they expect to finalize small details on a package to prevent Greece from defaulting on its loans next week
Greece has agreed on the broad terms of a new three-year bailout package with international creditors, with a few last details expected to be ironed out yesterday.
Finalizing quickly the deal for about 85 billion euros (US$93 billion) in new loans would prevent the country from defaulting on its debts next week and secure its future in the euro.
"We are very close. Two or three very small details remain," Greek Minister of Finance Euclid Tsakalotos said as he emerged yesterday morning from all-night discussions with the creditors' negotiators.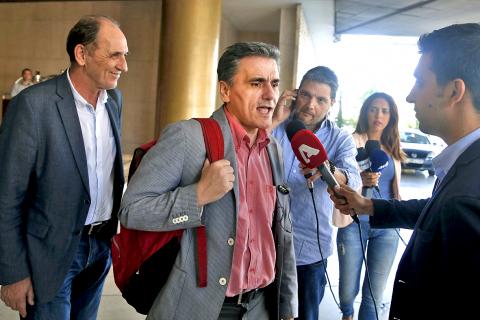 Greek Minister of Finance Euclid Tsakalotos, center, speaks to reporters while Greek Economy Minister George Stathakis, left, looks on as they leave a hotel in Athens yesterday following an overnight meeting with international creditors.
Photo: Reuters
The European Commission, a key negotiator in the talks, confirmed the progress.
"The institutions and the Greek authorities achieved an agreement in principle on a technical basis and talks are still ongoing on finalizing details," European Commission spokesperson for economic affairs Annika Breidthardt said, adding that the details were expected to be cleared up yesterday.
She added that an agreement still requires approval from higher-level representatives and senior finance officials from the 28 EU nations were to hold a conference call later yesterday.
Greece's government is hoping to push an agreement through parliament this week, ahead of a meeting between eurozone finance ministers on Friday.
Germany, the largest single contributor to Greece's two previous bailouts and among the toughest negotiators so far, remained cautious on the timing.
"We will have to examine the results that come in the course of today," German Deputy Minister of Finance Jens Spahn told n-tv television.
Cash-strapped Greece needs more money by Thursday next week at the latest, when it has a debt repayment of just more than 3 billion euros to make to the European Central Bank.
A draft of the agreement cited by the Greek daily Kathimerini said the deal included a package of more than 30 measures that would have to be voted on in Greece's parliament immediately, followed by a second package of measures to be adopted from October onward.
The government released some technical details of the deal, saying it had agreed to have a 0.25 percent government deficit this year and a 0.5 percent surplus next year, when not counting the cost of servicing debt.
Greece has agreed to achieving so-called primary surpluses of 1.75 percent in 2017 and 3.5 percent in 2018, the government said in an e-mailed note.
The pledges mean the country has avoided having to impose budget savings worth about 20 billion euros, it said.
Comments will be moderated. Keep comments relevant to the article. Remarks containing abusive and obscene language, personal attacks of any kind or promotion will be removed and the user banned. Final decision will be at the discretion of the Taipei Times.