KMT makes Hung nomination official
DANGERS: Hung said political infighting and populism are the biggest threats to Taiwan, blaming them for the nation's stalled development and disruptions to society
The Chinese Nationalist Party's (KMT) national congress yesterday officially endorsed Deputy Legislative Speaker Hung Hsiu-chu (洪秀柱) as its presidential candidate, putting an end to months of speculation about Hung's candidacy, which until yesterday was rumored to be facing opposition within the party.
Hung's nomination was approved in the first session of the national congress. As soon as KMT Chairman Eric Chu (朱立倫) asked attendees whether they agreed to have Hung represent the party in next year's presidential election, the hall roared with clapping and cheering, with Chu congratulating Hung on becoming the party's candidate, ending the official nomination process.
In her acceptance speech, Hung said: "Our nation faces various challenges: competition due to globalization, a slack economy, a widening wealth gap, the lack of justice equality and deteriorating quality of life, but the biggest threats are egregious political infighting and populism, which have stalled Taiwan's development, incited disorder, disrupted society and left people baffled."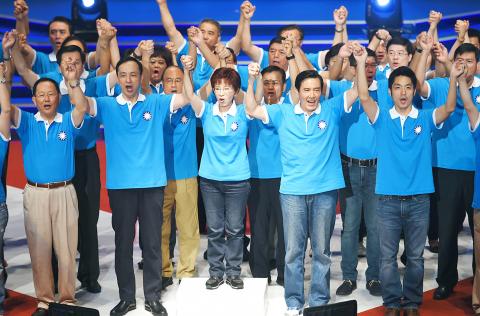 President Ma Ying-jeou, front second right, Chinese Nationalist Party (KMT) Chairman Eric Chu, front second left, and other KMT politicians hold raised hands and cheer with the party's new presidential candidate, Deputy Legislative Speaker Hung Hsiu-chu, front center, at the party congress in Taipei yesterday.
Photo: Chang Chia-ming, Taipei Times
"In order to safeguard [the nation's] peace and openness, the KMT must be the winner in next year's elections," she said.
"We cannot leave Taiwan to be governed by lies and populism or let a party that has never repented and apologized [for what it has done] return to power and again trap Taiwan in disastrous isolationism and disorder," Hung said.
"Only when the KMT is good can Taiwan's future be better," she added.
She said the KMT is a glorious party with a history spanning more than 100 years that "founded the Republic of China, led its people to victory in the eight-year war of resistance against Japan, raised Taiwan from the wretched colony it was, headed the Taiwanese economic miracle, helped the nation win worldwide respect through its democracy and consolidated cross-strait peace."
"These achievements are the results of the KMT's efforts, a fact that cannot be denied regardless of the smearing the party has been subjected to," she said.
"Peace, openness, equal distribution of wealth and morality are the goals to which I hope to lead the nation. Honesty, respect, tolerance and benevolence are the values I believe in," Hung said.
"If I am elected, I will adhere to the Constitution and the party's political platform, which is to consolidate, deepen and push peaceful cross-strait development on the basis of the 1992 consensus, guaranteeing Taiwan's dignity as the top priority," Hung said, referring to a term former Mainland Affairs Council chairman (蘇起) admitted making up in 2000, concerning an alleged tacit understanding between the KMT and the Chinese government that there is only "one China," with each side of the Taiwan Strait having its own interpretation of what "China" means.
Hung switched to Hoklo (commonly known as Taiwanese) for a few paragraphs of her speech in an attempt to portray herself as having humble origins.
"My father was unemployed for more than 40 years after he was released from the prison on Green Island, but I never harbored a grudge or allowed my heart to be filled with hatred. If I am elected, I would be a president who understands the needs of the public. I would be a president who values fairness and justice above all else," she said.
Switching back to Mandarin, Hung said there is a song that she is fond of called Beautiful Island, composed by famed Taiwanese folk singer Li Shuang-ze (李雙澤). The lyrics were written by Taiwanese poet Chen Hsiu-hsi (陳秀喜).
"The lyrics read: 'Our cradle, the beautiful island, is the embrace of a mother; the proud ancestors are watching over our steps.' Taiwan is our mother. It is our responsibility, regardless of generation, to cherish and take care of it. This land is where we live and establish our families. We love Taiwan with a genuine heart and will safeguard the Republic of China with our lives," she said.
Hung's spokesperson Jack Yu (游梓翔) later told the media that Taipei Mayor Ko Wen-je (柯文哲) had kept his promise and sent a congratulatory plaque to Hung, as well as to DPP Chairperson and candidate Tsai Ing-wen (蔡英文).
The "White Justice Alliance" group organized an event outside the Sun Yat-sen Memorial Hall, where the congress was taking place, to "cheer for Hung."
Comments will be moderated. Keep comments relevant to the article. Remarks containing abusive and obscene language, personal attacks of any kind or promotion will be removed and the user banned. Final decision will be at the discretion of the Taipei Times.