Israel and Hamas kept off grim UN list
Under unusual pressure from Israel and the US, UN Secretary-General Ban Ki-moon opted not to include either Israel or Hamas on a list of armies and guerrilla groups that kill and maim children in conflicts worldwide, despite the recommendations of one of his senior envoys, diplomats said.
The list was part of an annual report of violations of children's rights — an advance copy of which was circulated to members of the UN Security Council on Monday morning — that goes into great detail on the actions of the Israeli Defense Forces during the 50-day war in the Gaza Strip last year.
The report raised what it called "serious concern over the observance of the rules of international humanitarian law concerning the conduct of hostilities."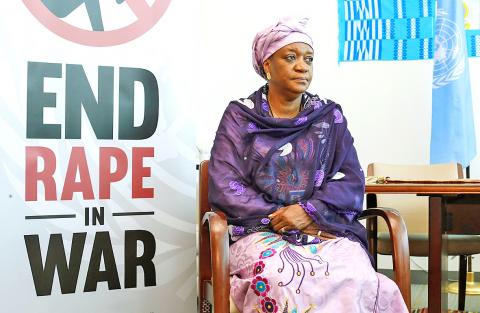 United Nations Special Representative on Sexual Violence in Conflict Zainab Bengura speaks with reporters during an Interview at UN headquarters in New York City on Monday.
Photo: AFP
The report said that at least 540 children were killed and another 2,955 wounded by Israeli airstrikes. It also accused Palestinian militants of firing rockets indiscriminately toward Israel, killing a four-year-old Israeli boy and gravely wounding at least six Israeli children.
However, it did not include the Israeli military or Hamas, the group that controls the Gaza Strip, on a list of entities known to recruit child soldiers, "kill or maim children, commit rape and other forms of sexual violence against children, or engage in attacks on schools and/or hospitals in situations of armed conflict."
That list — part of an annex to the report — contains 55 states and groups, including Sudanese government forces, the Lord's Resistance Army in Uganda and the Islamic State group.
"The report is the result of a consultative process within the house," Stephane Dujarric, the spokesman for the secretary-general, said in response to a barrage of questions from reporters at a daily news briefing at UN headquarters. "It was a difficult decision to take."
UN Special Representative for Children and Armed Conflict Leila Zerrougui recommended that both the Israeli military and Hamas be included, according to diplomats at the UN, who requested anonymity to discuss a sensitive matter. Israel and its allies lobbied heavily against that recommendation.
Israeli Ambassador to the UN Ron Prosor met with Zerrougui to discuss a draft earlier this year. Last month, Israeli Prime Minister Benjamin Netanyahu telephoned Ban.
According to one UN diplomat, the administration of US President Barack Obama also weighed in.
An official with the US mission to the UN declined to comment on whether administration officials had "private diplomatic conversations" with the secretary-general's office.
The UN, in a separate report in April, found that Israeli military actions killed 44 Palestinian civilians who had sought refuge in seven schools run by the organization.
The conflict left more than 2,200 Palestinians dead, while 72 were killed on the Israeli side, including 66 soldiers.
Zerrougui was not available for comment on Monday, but her office issued a statement confirming that she made "recommendations" to the secretary-general about a variety of governments and groups.
"This was part of a comprehensive and lengthy internal preparatory process and has resulted in the final report," she said in the statement.
Defense for Children International Palestine, a human rights group that provided testimony to Zerrougui's office for the report, said in a statement on Monday that it was "deeply troubled" by the omission of Israel.
Neither Israel nor Palestinian militants have been included before in the annual report on rights violations.
Comments will be moderated. Keep comments relevant to the article. Remarks containing abusive and obscene language, personal attacks of any kind or promotion will be removed and the user banned. Final decision will be at the discretion of the Taipei Times.