Man allegedly cuts young girl's throat
WITH A SMILE: The eight-year-old was undergoing emergency medical treatment as of press time. Reports said the suspect was angry at being jobless, or had been scolded for not visiting his cancer-stricken father
A 29-year-old man surnamed Kung (龔) was arrested yesterday after an attack at an elementary school in Taipei in which an eight-year-old girl's throat was cut.
As of press time, the girl was undergoing emergency medical treatment at Taipei Veterans General Hospital.
Police said preliminary investigations suggest Kung entered the grounds of Wenhua Elementary School (文化國小) in Taipei's Beitou District (北投) at about 4pm yesterday, before walking up four flights of stairs to the girls' restroom, pulling out a knife when he saw the girl about to enter the restroom and allegedly slashing her twice across the throat.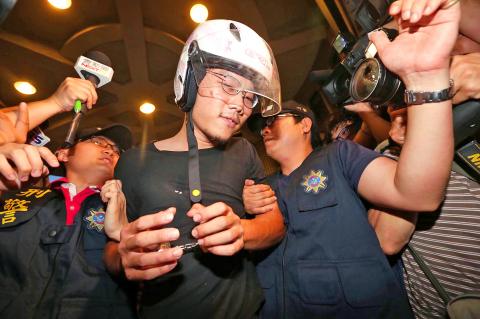 A man surnamed Kung, suspected of having cut a female student's throat, is escorted by police in Taipei yesterday.
Photo: CNA
The girl was found lying in a pool of blood and was rushed to hospital, while Kung remained at the scene and was detained by police.
An angry crowd gathered outside the police station last night and attempted to beat Kung as he stepped out of the police car. The police managed to hold back the crowd and took him into the station.
There was conflicting information about Kung's supposed motive, with some sources saying that he was enraged after being unable to find work for four months, while others said that Kung was upset after being scolded by his mother and brother for not visiting his cancer-stricken father in hospital on Thursday.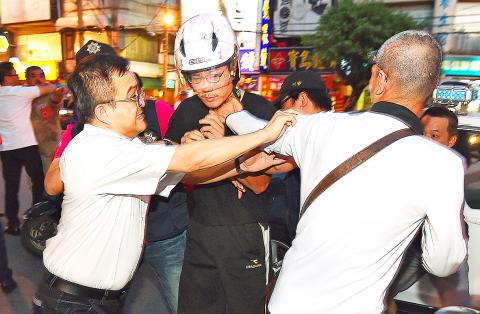 Police try to stop outraged people from hurting a man surnamed Kung, who is suspected of having cut a female student's throat in Taipei yesterday.
Photo: Liao Chen-huei, Taipei Times
Responding to questions from city councilors about the attack during a question-and-answer session at a city council meeting, Taipei Mayor Ko Wen-je (柯文哲) said that the city would assemble a special task force to review schoolground safety and security and establish a system within a year to screen and monitor dangerous people.
He added that the city presently had no system that would have been capable of keeping tabs on the suspect.
Department of Education Commissioner Tang Chih-min (湯志民) said that because schools are "open" as a matter of policy, it is difficult to keep tabs on everyone entering school grounds.
However, he said that more could be done to improve schoolground security, including addressing security camera "blind spots."
Ko canceled a planned evening fund-raising appearance because of the incident, instead chairing a late-night city government meeting about the matter.
Comments will be moderated. Keep comments relevant to the article. Remarks containing abusive and obscene language, personal attacks of any kind or promotion will be removed and the user banned. Final decision will be at the discretion of the Taipei Times.