Tsai policy is in line with US, Tsai leads KMT rivals: survey
Prior to Democratic Progressive Party Chairperson Tsai Ing-wen's (蔡英文) trip to the US today, a survey released yesterday showed that 66.1 percent of Taiwanese believe that her policy of maintaining the "status quo" in cross-strait relations corresponds to the US' cross-strait policy.
The poll released by the Cross-Strait Policy Association showed that only 13.2 percent of respondents held the opposite view.
Cross-Strait Policy Association president Tung Chen-yuan (童振源) said he expected the US would want Tsai to clarify her views on her "maintaining the status quo" remarks and to know how she would go about doing so.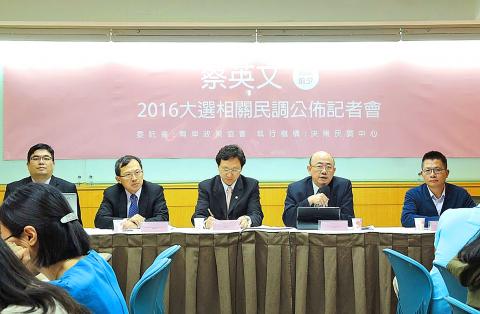 Democratic Progressive Party (DPP) lawmakers hold a press conference in Taipei yesterday to respond to a survey that shows 66.1 percent of the public believe DPP Chairperson Tsai Ing-wen's policy of maintaining the so-called "status quo" in cross-strait relations corresponds to US policy.
Photo: CNA
The poll showed that 37.1 percent of respondents believe that her trip would not affect her presidential campaign, while 32.3 percent said it would.
The poll was conducted on Monday and Tuesday, with 1,171 valid samples from people randomly selected from telephone books.
The poll found that Tsai led over all her potential Chinese Nationalist Party (KMT) rivals, even in northern Taiwan — notably Taipei, New Taipei City and Keelung — which have traditionally been a stronghold for the pan-blue camp.
Whether against KMT Chairman Eric Chu (朱立倫) or Legislative Speaker Wang Jin-pyng (王金平), Tsai would win by a large margin, even in the north, the poll showed.
Facing Chu, Tsai would have 57.1 percent support over Chu's 33.8 percent nationwide, while 14.2 percent of respondents said they were undecided. Against Wang, Tsai had the support of 51.3 percent of respondents nationwide, while Wang had 31.7 percent of the support, with 16.8 percent of the respondents saying they are still undecided, the poll found.
Breaking down the figures geographically, even in Taipei, New Taipei City and Keelung, Tsai garnered the support of 57.4 percent of respondents against Wang's 28.4 percent; and when running against Chu — who is serving his second term as New Taipei City mayor — Tsai still has 52.1 percent of support against Chu's 36.3 percent in the three cities, the poll found.
Jet-Go Consulting Group (戰國策顧問) chairman Wu Chun-cheng (吳春城) said the poll might indicate people are tired of the KMT.
"When Tsai first announced her presidential bid [last month], a poll conducted without identifying her rival showed that she only had a little over 30 percent support," Wu said. "However, if you compare Tsai against other KMT rvials, she immediately has more than 50 percent support."
"This shows that the 20 percent growth might come from people who simply do not like the KMT," he said.
Comments will be moderated. Keep comments relevant to the article. Remarks containing abusive and obscene language, personal attacks of any kind or promotion will be removed and the user banned. Final decision will be at the discretion of the Taipei Times.