Ruling against mountain rescuers sparks uproar
'DETRIMENTAL TO SOCIETY': Nantou firefighters were ordered to pay NT$2.67 million to the family of Chang Po-wei because they failed to find him before he died
A Taipei court's ruling on a lawsuit over a 2011 mountaineering death has sparked controversy because the judge blamed inadequate efforts by firefighter rescue teams and awarded the victim's family NT$2.67 million (US$86,685) in compensation.
It was a precedent-setting ruling, marking the first time official rescuers have been ordered to compensate a victim's family.
The defendants, Nantou County Fire Department officials, said after Wednesday's decision that they would appeal the ruling because it was wrong to fault rescuers, adding that the verdict was very detrimental to society.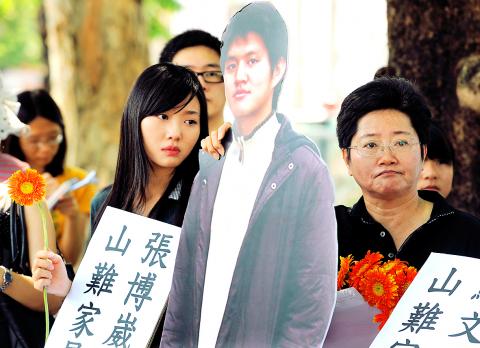 Family members of Chang Po-wei, who died while climbing Baigu Mountain alone, hold a cardboard cut-out of Chang during a demonstration in Taipei on July 5, 2011.
Photo provided by Chang's family
Nantou County Commissioner Lin Ming-chen (林明溱) yesterday vowed to appeal the ruling to protect the rights of firefighters who undertook the search-and-rescue mission.
The case concerned the death of Chang Po-wei (張博崴), a student at Chung Shan Medical University, who headed into the mountains alone on Feb. 27, 2011, to climb the 3,341m Baigu Mountain (白姑大山) in the Hsuehshan Range (雪山山脈).
Chang called his girlfriend on his cellphone the next day, saying he had gotten lost on the mountain trails, but did not ask her to report him missing.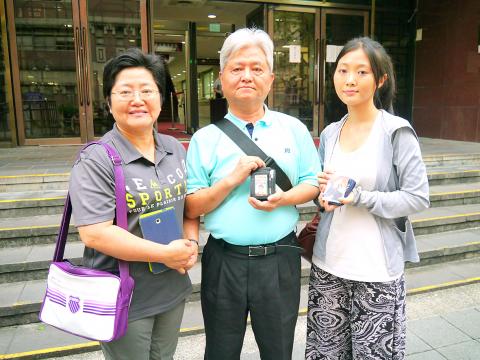 The mother, father and sister, left to right, of Chang Po-wei, who died while climbing Baigu Mountain alone in 2011, hold photos of Chang outside Taipei District Court on Wednesday.
Photo: Chang Hsiao-ti, Taipei Times
There was no further contact with Chang, and on March 1, the authorities initiated a search-and-rescue operation for him.
The operation lasted 51 days and involved more than 600 people, including local police and firefighter units, troops, Aboriginal villagers and volunteer rescuers from mountaineering clubs.
On April 20, Chang's body was found in a mountain gully by Huang Kuo-shu (黃國書), a veteran mountaineering guide hired by Chang's parents to conduct a search.
Chang's parents believe their son might have lived if he had been found earlier, and blamed the rescue units from the public sector for failing to locate him. They filed a lawsuit seeking NT$6.65 million in compensation, blaming the Nantou County police and fire departments, the National Fire Agency and the Forestry Bureau office in the region, along with several other police units.
The ruling exonerated all the defendants except for the local firefighter units, who were ordered to pay compensation.
However, most commentators and mountain rescuers said the ruling was unjustified because it blamed the wrong party, and that the victim himself committed the most crucial mistake by venturing into the mountains alone, breaking a cardinal rule of mountaineering.
Nantou County Fire Department Director Lin Tsung-chi (林聰吉) said his firefighters felt maligned by the ruling, especially because everyone had made tremendous efforts, placing themselves at great risk in the unpredictable weather conditions and dangerous mountain terrain during the search.
One firefighter said he would not undertake rescue missions in the future, saying it is a thankless task that puts him at risk of being sued.
Comments will be moderated. Keep comments relevant to the article. Remarks containing abusive and obscene language, personal attacks of any kind or promotion will be removed and the user banned. Final decision will be at the discretion of the Taipei Times.