China's State Council releases defense paper
China yesterday outlined a strategy to boost its naval reach and held a groundbreaking ceremony for two lighthouses in disputed waters, developments likely to escalate tensions in a region already jittery about Beijing's maritime ambitions.
In a policy document issued by the State Council, China vowed to increase its "open seas protection," switching from air defense to both offence and defense, and criticized neighbors who take "provocative actions" on its reefs and islands.
Chinese Ministry of National Defense spokesman General Yang Yujun (楊宇軍) said China's reclamation in the Spratly Islands (Nansha Islands, 南沙群島) was comparable with construction of homes and roads on the mainland.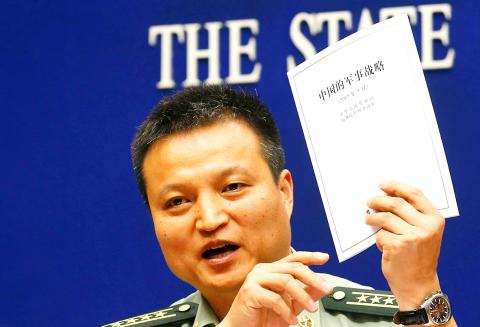 Chinese Ministry of National Defense spokesman General Yang Yujun yesterday holds up a copy of the State Council's defense white paper during a news conference at the State Council Information Office in Beijing.
Photo: Reuters
"From the perspective of sovereignty, there is absolutely no difference," he told reporters.
Such construction is designed to satisfy both military and civilian purposes, such as disaster mitigation, fisheries protection and weather monitoring, Yang said.
Some countries with "ulterior motives" had unfairly characterized China's military presence and sensationalized the issue, he said.
Surveillance in the region was increasingly common and China would continue to take "necessary measures" to respond, he said.
"Some external countries are also busy meddling in South China Sea affairs. A tiny few maintain constant close-in air and sea surveillance and reconnaissance against China," the strategy paper said in a thinly veiled reference to the US.
It said China's air force would shift its focus from territorial air defense to both offense and defense, and building airspace defenses with stronger military capabilities.
The 25-page report was issued in English and Chinese at a rare news conference presided over by uniformed officers.
The People's Liberation Army's (PLA) nuclear force, known as the Second Artillery Corps, would also strengthen its capabilities for deterrence and nuclear counterattack as well as medium and long-range precision strikes, the paper said.
"China faces many complex maritime security threats and challenges and requires a navy that can carry out multifaceted missions and protect its sovereignty," PLA Senior Colonel Wang Jin told reporters.
The paper cited "grave threats" to China's cyber infrastructure, adding that China would hasten development of a cybermilitary force.
Meanwhile, China also hosted a groundbreaking ceremony yesterday for the building of two lighthouses in the South China Sea that was broadcast on state television, defying calls from Washington and Manila for a freeze on such activity.
The construction was to help maritime search and rescue, disaster relief, environmental protection and navigational security, Chinese Ministry of Foreign Affairs spokeswoman Hua Chun-ying (華春瑩) said.
Wu Shicun (吳士存), president of the government-affiliated National Institute for South China Sea Studies, said the lighthouses were among the first of planned civilian-use facilities in the region.
"The reefs are located near an important commercial shipping route, so there will be continued development to maintain the security of those shipping lanes," he said in an interview.
The ministry also said it had carried out military training for party cadres from border and coastal areas to enhance their understanding of the "national security situation."
Additional reporting by AP
Comments will be moderated. Keep comments relevant to the article. Remarks containing abusive and obscene language, personal attacks of any kind or promotion will be removed and the user banned. Final decision will be at the discretion of the Taipei Times.