CWB warns of torrential rain, reservoir levels rise
The Central Weather Bureau (CWB) yesterday warned of torrential rain in the mountains of central and southern Taiwan, while heavy rain brought by a plum rain front has slightly eased water shortages in the south and north of the island.
Mountainous areas in Taichung and Kaohsiung, as well as Nantou, Hualien, Chiayi and Pingtung counties and Taoyuan's Sinwu District (新屋), have experienced extremely heavy rain, with more than 130mm of rainfall in 24 hours, the bureau said.
The warning of torrential rain means that more than 200mm of rain could fall in 24 hours, with extremely heavy rain expected in northern, central and eastern Taiwan proper, the bureau said.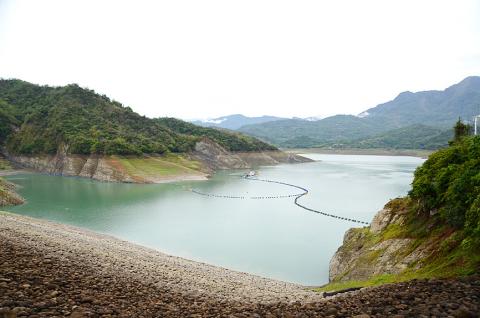 The Zengwen Reservoir shows higher water levels yesterday.
Photo: Wu Chun-feng, Taipei Times
From Friday to 8am yesterday, the Zengwen Reservoir (曾文水庫) in Chiayi County recorded 136.1mm of rain, increasing reserves by an estimated 18 million cubic meters, the Water Resources Agency (WRA) said.
Meanwhile, Tainan's Nanhua Reservoir (南化水庫) recorded 149.6mm of rain and an increase in reserves of about 7 million cubic meters.
The Kaoping River (高屏溪) in the south recorded 143.9mm of rain and runoff from the river increased to 230m3 per second, the agency said.
As a result of the plum rains, Zengwen Reservoir's reserves rose to 13.72 percent of capacity, or 64.92 million cubic meters, as of 11am yesterday, after falling to 11.60 percent on Thursday night, the agency's data showed.
Reserves at the Nanhua Reservoir rose to 14.70 percent of capacity, or 15 million cubic meters, as of 6am yesterday, up from 12.55 percent two days ago.
The Shihmen Reservoir (石門水庫) in Taoyuan, which supplies water to New Taipei City, Taoyuan and Hsinchu County, collected 9 million cubic meters of water between midnight and 4pm, agency data showed.
Meanwhile, the Ministry of Economic Affairs said the South Region Water Resources Office would hold a meeting today to discuss the possibility of easing water rationing measures in Tainan and Kaohsiung in the wake of the heavy rain.
Phase-two water rationing measures are in effect in Tainan and third-phase measures in Kaohsiung.
The ministry said recent rains have boosted reserves in reservoirs in the center and south of the nation, but it is too early to lift all rationing measures.
"The ministry has to ensure stable supply of water in every region before scrapping all water rationing measures," Water Resources Agency Chief Secretary Lai Chien-hsin (賴建信) told the Taipei Times by telephone.
Additional reporting by Lauly Li
Comments will be moderated. Keep comments relevant to the article. Remarks containing abusive and obscene language, personal attacks of any kind or promotion will be removed and the user banned. Final decision will be at the discretion of the Taipei Times.