Philippines says it is prepared to help fleeing migrants
The Philippines yesterday said it was ready to help Rohingya and Bangladeshi boat people, as its Southeast Asian neighbors faced outrage for turning them away.
The Philippines is obliged to help the migrants, many of whom are fleeing persecution, because it is party to the 1951 UN convention on refugees, Philippine Justice Secretary Leila de Lima and Department of Foreign Affairs spokesman Charles Jose both said.
"We have the commitment and the obligation to extend humanitarian assistance to these asylum seekers," Jose told ANC television, without giving details.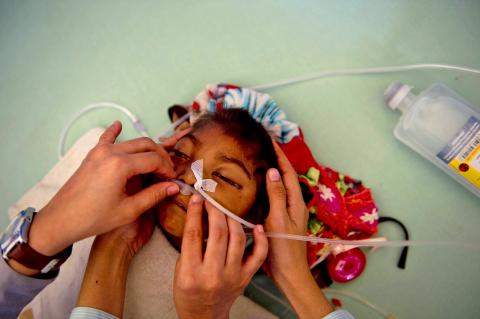 Indonesian doctors attend to Shahir Habibi, a severely malnourished three-year-old Rohingya girl from Myanmar, remains unconscious yesterday at a hospital in Langsa, Aceh Province, Indonesia. Habibi's mother and elder sister were rescued together with other migrants from Myanmar and Bangladesh by Indonesian fishermen in Langsa on Friday.
Photo: AFP
De Lima said that "saving lives" was paramount.
"I think humanitarian consideration should transcend any other consideration. First thing is the humanitarian concern, saving lives," de Lima said after meeting with UN High Commissioner for Refugees Representative Bernard Kerblat.
Nearly 3,000 migrants have swum to shore or been rescued off Indonesia, Malaysia and Thailand over the past week, with thousands more believed to be drifting on boats without food or water. The three governments have sparked international outrage for driving away some of the migrant boats, who are believed to have been deserted by human-trafficking rings after a Thai crackdown.
"It is not a crisis that can be solved by a single state. It's a collective responsibility," Kerblat said.
Philippine presidential spokesman Herminio Coloma also said Manila was open to helping the refugees.
"As the only predominantly Catholic nation in Southeast Asia, it is our duty to provide succor to those in need," Coloma said.
The Rohingya are a Muslim minority group in predominantly Buddhist Myanmar, where they have no legal rights, making them a target for human traffickers. Up to 1.3 million live in the western Rakhine state.
Malaysia and Thailand have called on Myanmar to stem the flow of the Rohingya, but Myanmar has refused to take responsibility, claiming the group is composed of illegal immigrants from Bangladesh.
Meanwhile, Indonesia said it has "given more than it should" to help hundreds of Rohingya and Bangladeshi migrants stranded on boats by human traffickers.
Indonesian Foreign Minister Retno Marsudi yesterday said that at today's meeting with Malaysian and Thai officials, she will discuss how to solve the migrant problem with help from their countries of origin, the UN refugee agency and the International Office for Migration.
"This irregular migration is not the problem of one or two nations. This is a regional problem which also happens in other places. This is also a global problem," Marsudi told reporters after a Cabinet meeting.
Marsudi said Indonesia has sheltered 1,346 Rohingya and Bangladeshi migrants who washed onto Aceh and North Sumatra provinces last week. The first batch came on May 10 with 558 people on a boat, and the second with 807 on three boats landed on Friday.
Even before the crisis, nearly 12,000 migrants were being sheltered in Indonesia awaiting resettlement, she said.
"Indonesia has given more than it should do as a non-member state of the Refugee Convention of 1951,'' she said.
Comments will be moderated. Keep comments relevant to the article. Remarks containing abusive and obscene language, personal attacks of any kind or promotion will be removed and the user banned. Final decision will be at the discretion of the Taipei Times.