Japan's WTO case a bad recipe: officials
FOOD FIGHT? With Taipei's new regulations on Japanese food imports set to go into effect tomorrow, questions regarding the enforcement of such rules remain unanswered
Amid reports that Japan could challenge Taiwan's decision to tighten regulations on imported Japanese foodstuffs at the WTO, Minister of Health and Welfare Chiang Been-huang (蔣丙煌) yesterday said that Taiwan is within its rights to take such an action.
"The new measure will be enforced as scheduled [tomorrow]. Even if Japan plans to file a case with the WTO, our action will stand up to scrutiny," Chiang said.
"The ministry will continue to communicate with Japan and help it understand why it was necessary to tighten regulations," he said, adding that the measures "will benefit both sides."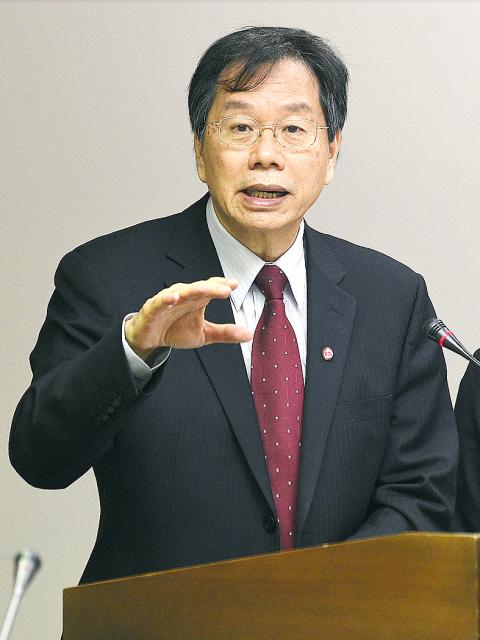 Minister of Health and Welfare Chiang Been-huang yesterday said that Taiwan is within its rights to tighten regulations on imported Japanese foodstuffs.
Photo: Taipei Times
The new measures were adopted after it was discovered in March that food items from five Japanese prefectures from which imports are banned had made their way into Taiwan with the help of false labels, Chiang said.
Food products from Fukushima, Ibaraki, Tochigi, Gunma and Chiba prefectures have been banned in Taiwan since those areas were suspected of radiation contamination the Fukushima Dai-ichi nuclear power plant disaster in March 2011.
Under the new laws, importers of Japanese food products would be required to present certificates of origin to prove that the items did not originate in the five prefectures.
For imports such as tea, baby food, and dairy and aquatic products, radiation inspection certificates are also to be required.
How measures are enforced remains to be seen, as the Food and Drug Administration (FDA) had not received any certificates of origin issued by official Japanese agencies or authorized bodies as of yesterday, Chiang said.
Japan has also not supplied a list of its inspection organizations, he said.
The FDA has inspected more than 8,000 shipments of Japanese food so far this year, agency statistics showed.
If related documents are not presented before tomorrow, items such as tea from Shizuoka and some aquatic and dairy products would not be allowed into Taiwan, officials said.
Japanese Minister of Agriculture, Forestry and Fisheries Yoshimasa Hayashi on Tuesday said that Japan has demanded that Taiwan retract its decision, but has yet to see any tangible progress, and that Japan has not ruled out taking the case to the WTO.
Association of East Asian Relations chairman Lee Chia-chin (李嘉進) said that he would advise Japan not to threaten to take the case to the WTO.
With such friendly bilateral relations between the two sides, he said: "We can talk about everything, but taking the case to the WTO could sour bilateral ties."
Lee added that Taiwan is a major consumer of Japanese agricultural products and can certainly ask Japan to heed its food safety concerns.
"Once Japan has fully investigated the false labeling, Taiwan will certainly feel less pressure to impose stricter regulations," Lee said.
Meanwhile, the Ministry of Foreign Affairs yesterday confirmed that Takeo Hiranuma, a senior Japanese lawmaker and head of the Japan-Republic of China Diet Members' Consultative Council, recently canceled a scheduled visit to Taiwan, but said that the move was not related to conflict over the planned regulations.
Ministry spokesperson Anna Kao (高安) said that Hiranuma postponed his planned visit because he was concerned that Typhoon Noul might cause travel disruptions on his way home.
Kao made the remarks in response to a report by the Chinese-language Liberty Times (the Taipei Times' sister newspaper) yesterday saying that Hiranuma was scheduled to arrive on Tuesday, but that he canceled the trip after he was told by the ministry that his visit would not change the government's decision to implement the rules this week.
Additional reporting by Shih Hsiu-chuan
Comments will be moderated. Keep comments relevant to the article. Remarks containing abusive and obscene language, personal attacks of any kind or promotion will be removed and the user banned. Final decision will be at the discretion of the Taipei Times.