Illegal profiteering at Dome: committee
ZERO ROYALTIES: The Clean Government Committee recommended that President Ma Ying-jeou and Lee Sush-der be investigated by the Ministry of Justice
The Taipei City Government should dissolve its contract with Farglory Land Development Co (遠雄建設) for the construction of the Taipei Dome, the Taipei Clean Government Committee recommended yesterday.
"We discovered that there was serious illegal profiteering and also that Farglory polluted the selection process by engaging in influence-peddling involving city officials," committee member and lawyer Cheng Wen-lung (鄭文龍) said. "We believe the city has a sufficient legal foundation to dissolve the contract in accordance with the Government Procurement Act (政府採購法) and Administrative Procedure Act (行政程序法)."
He said that the administration of then-Taipei mayor Ma Ying-jeou (馬英九) had repeatedly agreed to contract revisions out of line with the original "public notice" inviting bids for the build-operate-transfer (BOT) construction contract, in defiance of the Act for Promotion of Private Participation in Infrastructure Projects (促進民間參與公共建設法).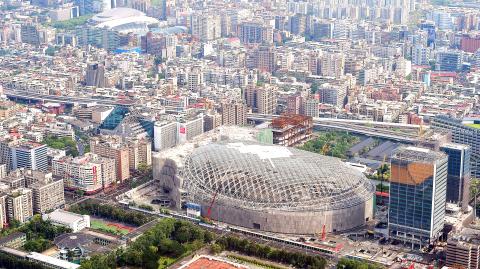 Construction of the Taipei Dome is pictured on Sunday.
Photo: Fang Pin-chao, Taipei Times
Cheng singled out revenue royalties as the most prominent example of "illegal profiteering" allowed by Ma's administration.
City negotiators agreed to allow the firm to pay zero royalties for using the site following a secret 2006 meeting between Ma and Farglory chairman Chao Teng-hsiung (趙藤雄).
Cheng said the city's concession violated royalty payment requirements in both its original public notice and the Act for Promotion of Private Participation in Infrastructure Projects.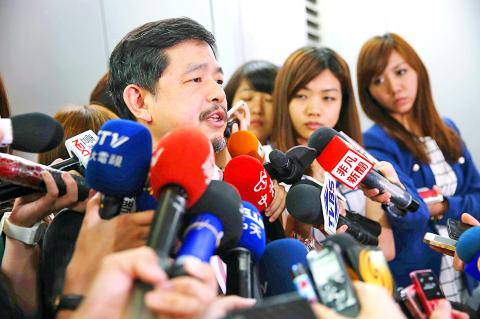 Lawyer Cheng Wen-lung, a member of the Taipei Clean Government Committee, speaks to reporters in Taipei yesterday.
Photo: CNA
Farglory profit estimates submitted to the city in 2006 put the firm's profits at NT$117 billion (US$3.8 billion at current exchange rates) over its 50-year contract, he said, adding that the city conceded about NT$2.8 billion in royalties assuming it would have received 1 percent of the revenue.
Even without direct evidence that Ma or Lee Sush-der (李述德) — the city's then-finance commissioner who headed the negotiation team — had personally benefited, allowing Farglory's illegal profiteering was enough to establish legal culpability, he said.
City promises to conduct rezoning to allow Farglory to construct housing on the Dome site were also cited in the committee's report as an example of illegal profiteering.
Other examples cited included contract revisions allowing Farglory to rent out or transfer ownership of site properties, along with the removal of requirements that profits from "subsidiary industries" be used to balance any losses by the Dome itself.
In addition, during the controversy in 2005 and 2006 over Farglory switching design contractors, Chao had twice feted city committee members, one of whom received an anonymous NT$2.9 million money transfer shortly afterwards, Cheng said.
The committee recommended that the Taipei City Government report both Ma and Lee to the Ministry of Justice for a formal investigation, also recommending that the city government increase citizen participation in future BOT contracts through referendums and public hearings.
Reacting to the committee's conclusions, Ma expressed his "strong regret" through Presidential Office spokesperson Charles Chen (陳以信), saying that what he had done during his term as Taipei mayor was all aimed at enhancing the welfare of Taipei residents and that he was never involved in illegally profiting any private enterprise.
Quoting Ma, Chen accused the committee of "political repression" and questioned how the committee had come to such a conclusion after Taipei Mayor Ko Wen-je (柯文哲) had said that the project was "legal."
Lee also insisted that he had acted according to the law and was not involved in anything illegal.
Additional reporting by Loa Iok-sin
Comments will be moderated. Keep comments relevant to the article. Remarks containing abusive and obscene language, personal attacks of any kind or promotion will be removed and the user banned. Final decision will be at the discretion of the Taipei Times.