One Ma-anshan reactor halted after fire at plant
One of the Ma-anshan Nuclear Power Plant's two reactors was shut down yesterday after a fire late on Sunday night involving an auxiliary electrical transformer in a non-nuclear area of the Pingtung County plant, state-run Taiwan Power Co (Taipower, 台電) said.
Taipower said the fire began inside a transformer outside the second reactor and a fire alarm was triggered at 11:58pm on Sunday. The fire was extinguished by the plant's automatic sprinkler system within 17 minutes, it said.
"The incident did not cause a radioactive leak. The body of the second reactor was not affected by the incident, but for safety reasons we have suspended its operation until the damaged parts of the power transmission system are repaired," Taipower spokesman Lin Te-fu (林德福) told a press conference in Taipei.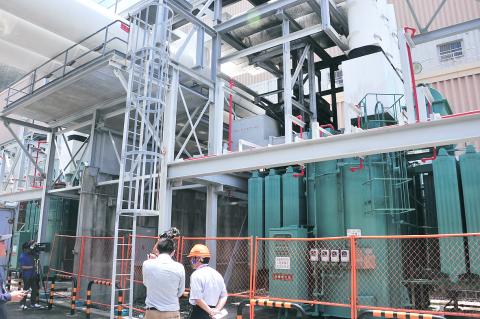 Taiwan Power Co workers yesterday confer next to an auxiliary electrical transformer affected by a fire late on Sunday at the Ma-anshan Nuclear Power Plant in Pingtung County.
Photo: Tsai Tsung-hsien, Taipei Times
It is expected to take two weeks to repair the damaged transformer and the company was investigating the cause of the fire, Lin said.
Lin said the auxiliary transformer provides electricity for the plant's operation, but there are other sources of electricity, including three emergency diesel generators.
The backup power supply will ensure the operation of the first reactor, Lin said.
However, due to the suspension of the reactor and the relatively warm weather, the nation's energy reserve margin yesterday dipped to 5.93 percent from 11.23 percent on Sunday, the company said.
Taipower said it can supply sufficient electricity to the nation if other power generators remain functional while the second reactor of the plant is shut down.
However, Citizens of the Earth, Taiwan (CET) yesterday urged the government to retire the Ma-anshan plant ahead of schedule, citing 30 abnormal incidents at the plant since it became operational in 1984.
The plant is scheduled to be retired in 2025.
Taipower should inspect the power supplies for the Ma-anshan plant and release a report on the investigation into the fire to the public, CET said in a statement.
Taipower should have notified the Pingtung County Government as soon as the fire alarm was triggered, instead of faxing notice of the fire later, CET said.
The group called on Taipower to improve its standard operating procedures for emergencies.
Comments will be moderated. Keep comments relevant to the article. Remarks containing abusive and obscene language, personal attacks of any kind or promotion will be removed and the user banned. Final decision will be at the discretion of the Taipei Times.