Tainan speaker alleges persecution, slams Lai
Tainan City Council Speaker Lee Chuan-chiao (李全教), who is charged with vote-buying, yesterday held what he called an "international press conference" to accuse Tainan Mayor William Lai (賴清德) of "ruining the spirit of democracy" with his ongoing boycott of the council and to question Democratic Progressive Party (DPP) Chairperson and presidential candidate Tsai Ing-wen's (蔡英文) "eligibility" as a prospective president for supporting Lai.
"I want to accuse," Lee said at the Legislative Yuan in Taipei, speaking partly in English. "Lai used his massive budget and political resources to share the positions to those prosecutor [sic] and judge" who "try to sentence me [sic]."
Likening his 54 days in detention to "hell" and saying he was charged without "evidence or reason," Lee said he wanted to make public his accusations against Lai "to the media and the world," which could "assess the value of the justice" for him.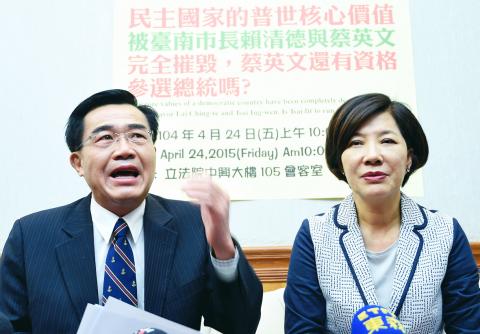 Tainan City Council Speaker Lee Chuan-chiao speaks at a press conference in the Legislative Yuan in Taipei yesterday, accusing Tainan Mayor William Lai of "ruining the spirit of democracy."
Photo: Chu Pei-hsiung, Taipei Times
"Lai used his political power to bully me via the media and accused me of involvement in 'black money,' but the fact is that I did not hold any public office position in the past eight years. Only the city government, with its massive budget and administrative resources, is capable of corruption," he said.
Lee accused Lai of land speculation involving property around the city's new civic center and of possible corruption in the Feiyan New Village (飛雁新村) urban renewal project undertaken by Farglory Land Development Co (遠雄建設). He said that five of the eight members of the committee reviewing the project are officials of the city's Bureau of Urban Development.
He also alleged that SET-TV chief executive Lin Kun-hai (林崑海) had purchased a vast tract of land designated for educational and cultural use, and had it rezoned for property development with the help of the Lai administration.
Lee said that the country would be "destroyed" if Tsai — who he said has "accompanied Lai in his attempt to turn back time and bring the country to the period of Martial Law" — and Lai are elected as the nation's president and vice president respectively.
"William Lai ruin [sic] the spirit of democracy. I want to accuse to the world, this kind of person like Tsai Ing-wen, they are not eligible to campaign for the presidential position," Lee said in English. "Why Tsai Ing-wen wants to show respect to William Lai by not entering parliament, why? Tell me why? Tell me the word [sic]."
"I would like to reiterate, 30 years ago, so many distinguished persons from the DPP sacrificed their life and spent all their life [sic] and money to pursue democracy," he said, again switching to English. "I swear to the [sic] God I will fight for democracy."
Lee said his "parliamentary colleagues" had tried to invite other councilors to attend council meetings, but was told that they would lose construction funds if they do.
"I have my colleagues as witness to Lai's intimidation against the councilors by using his administrative resources," Lee said.
He called on the Executive Yuan, which has the authority to punish top administrative officials, to take action.
"Both the Executive Yuan and the KMT have been playing ostrich since the electoral rout in the local elections last November," he said.
Lee is under investigation over allegations of vote-buying during the Nov. 29 elections. The Tainan District Prosecutors' Office filed a petition with the court on Dec. 31 last year to invalidate his election as a city councilor.
His speakership has also been called into question. He was arrested in February, detained for 54 days and formally charged on April 2 with vote-buying in last year's Tainan City Council speakership election. He was released on NT$15 million (US$483,076) bail.
Comments will be moderated. Keep comments relevant to the article. Remarks containing abusive and obscene language, personal attacks of any kind or promotion will be removed and the user banned. Final decision will be at the discretion of the Taipei Times.