Experts warn of risky chemical in certain foods
Several traditional Taiwanese foods, including brown sugar and fried dough sticks (youtiao, 油條), were found to contain acrylamide, which researchers said could increase the risk of cancer and genetic disorders.
Commonly found in fried, starchy food, acrylamide is believed to be carcinogenic, and neurologically and genetically toxic to animals, said Yeh An-i (葉安義), a food science professor at National Taiwan University (NTU).
It is still not clear whether acrylamide consumption can induce cancer in people, but exposure to the substance might be detrimental, he said.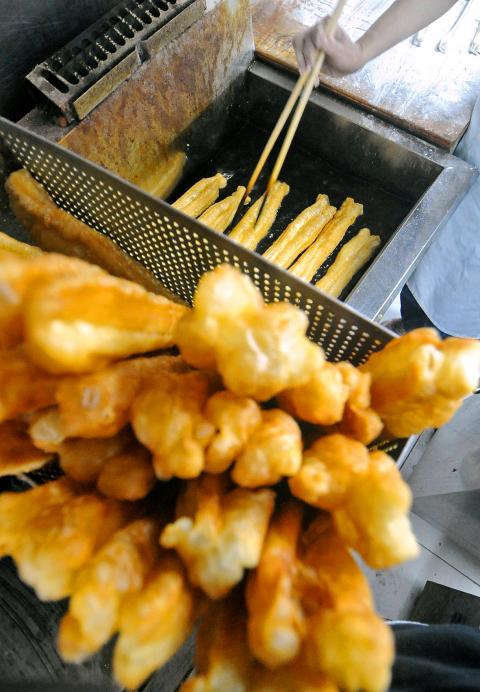 A vendor in Taipei fries dough sticks on April 11 last year.
Photo: Liao Chen-huei, Taipei Times
There are methods to manufacture food with lowered acrylamide levels and the government has to familiarize the food industry with those methods and continue monitoring the public's exposure to the substance, Yeh said.
Wu Kuen-yuh (吳焜裕), an industrial hygiene professor at NTU, said the presence of acrylamide in food is a serious issue, as the substance has been found to increase health risks in young mice more than in adult mice, meaning there might be a risk for infants.
Genetic damage caused by acrylamide might lead to cancer, Wu said, citing a report by the US Environmental Protection Agency that said an adult who weighs 60kg and consumes 75g of French fries daily — roughly equivalent to a small bag of McDonald's fries — is 500 times more likely to develop cancer than people who do not.
The government should immediately standardize and regulate the manufacture of food products containing acrylamide, especially given that acrylamide levels found in urine from Taiwanese is slightly higher than the world average, he said.
According to a survey conducted by the Ministry of Health and Welfare, acrylamide levels are highest in potatoes, potato starch and taro, with 435 micrograms per kilogram on average, while flour, corn, rice and mixed-grain products have 299 micrograms per kilogram on average, and peas, green beans, red beans, soybeans and black beans have 101 micrograms per kilogram on average.
Chinese Nationalist Party (KMT) Legislator Alicia Wang (王育敏) said the government should disclose information on acrylamide levels in food, especially foods that are generally considered to be healthy, such as brown sugar, which is typically consumed as an iron supplement by women during menstruation.
Ministry of Health and Welfare Vice Minister Hsu Ming-neng (許銘能) said the ministry would redouble its effort to supervise the food industry to lower acrylamide levels, monitor high-risk products and educate the public.
The ministry plans to table a draft act on standardizing and monitoring acrylamide levels in food in three months, he said, adding that the act would set the acrylamide level in French fries at 600 parts per billion.
Chang Gung Memorial Hospital toxicologist Yen Tsung-hai (顏宗海) said that acrylamide is most common in starchy foods heated higher than 120?C.
NTU Hospital physician Su Ta-cheng (蘇大成) said that a brown color and pleasant smell in cooked food usually indicate high acrylamide levels.
It is recommended to soak potatoes in water to break down sugars before frying or baking and to avoid unprocessed flour, Yen said.
It is also recommended that foods refrigerated below 8?C be allowed to reach room temperature before cooking, as a sudden rise in temperature can lead to a surge in acrylamide levels, Yen said, adding that people should avoid eating reheated bread.
However, Yang Chen-chang (楊振昌), a toxicologist at Taipei Veterans General Hospital, said that although acrylamide is potentially carcinogenic, people who consume a low-sodium, low-fat and low-sugar diet should not be alarmed.
Comments will be moderated. Keep comments relevant to the article. Remarks containing abusive and obscene language, personal attacks of any kind or promotion will be removed and the user banned. Final decision will be at the discretion of the Taipei Times.