Activists protest application through Chinese agency
SELF-DEGRADING: One activist said the government filing an application to join the AIIB through the TAO was equivalent to admitting that Taiwan was a part of China
Following the government's announcement that it had asked China's Taiwan Affairs Office (TAO) to forward its application to join the Asian Infrastructure Investment Bank (AIIB) on Tuesday, hundreds of people rallied outside the Presidential Office Building late into the night and into the morning yesterday to protest the move.
Holding banners and shouting slogans accusing President Ma Ying-jeou (馬英九) of being a traitor, a crowd of more than 30 people — mobilized by several student activist groups, including the Black Island National Youth Front and Democracy Tautin — gathered in front of the Presidential Office Building without prior notice at about 9:30pm on Tuesday night.
Military police officers in charge of maintaining security reacted quickly to stop the protesters and surrounded them.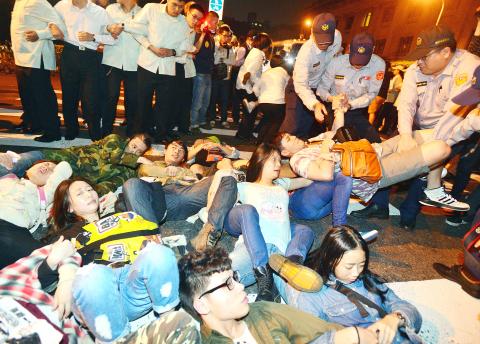 Taipei police remove Black Island National Youth Front members protesting outside the Presidential Office Building in Taipei on Tuesday night after some protesters reportedly attempted to enter the building.
Photo: Wang Yi-sung, Taipei Times
Severe clashes broke out when military and civilian police officers — who rushed to the scene after the activists arrived — tried to forcibly remove protesters, and at least one protester was handcuffed, while several protesters and officers were wounded.
Although initially there were just slightly more than 30 protesters, more people arrived after learning about the event through the Internet and news reports.
A second wave of clashes broke out when the newly arrived crowd stood in front of two police buses in an attempt to block the police from taking away those they had arrested.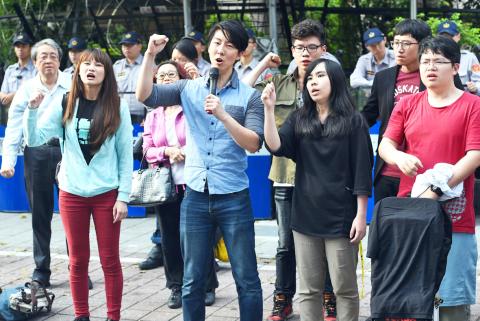 Student protester Wu Cheng, center left, speaks at a news conference in front of the Mainland Affairs Council in Taipei yesterday against the government's plan to join China's proposed Asian Infrastructure Investment Bank, accompanied by Lai Ping-yu, left, and other protesters.
Photo: Lo Pei-der, Taipei Times
The blockade continued for about half an hour, until police cleared the road.
"We are here to voice our opposition to the government's AIIB membership application under the 'one China' principle through the TAO," Democracy Tautin deputy convener Wu Cheng (吳崢) told the crowd.
"If Taiwan wishes to join the AIIB, then we should apply to it directly, not through a Chinese government agency. That is tantamount to saying that we are part of China," Wu said.
Black Island National Youth Front member Lai Yu-fen (賴郁棻) said that, should the government not cease its self-degrading behavior, "our actions today will only be the beginning."
The tension between law enforcement and protesters diminished as more people turned up to show their support for the protesters; there were between 300 and 400 people present by about midnight.
Moreover, others delivered water and food to the protest, while a medical aid station was also set up.
A minor incident occurred when a police officer chased a woman who crossed the police line, which was set up at about 2am to prevent more people from moving in. The officer found himself surrounded by an angry crowd and was trapped until his colleagues rushed to his rescue a few minutes later.
The standoff continued until after 4am, when police lined up to drive the crowd away.
The crowd left with no resistance, but moved to the Mainland Affairs Council headquarters nearby, where they held a news conference at 7am explaining their actions.
Comments will be moderated. Keep comments relevant to the article. Remarks containing abusive and obscene language, personal attacks of any kind or promotion will be removed and the user banned. Final decision will be at the discretion of the Taipei Times.