DPP official urges nationwide Chiang Kai-shek purge
The removal of statues of Chiang Kai-shek (蔣介石) from school campuses in Tainan has elicited the Chinese Nationalist Party's (KMT) ire, but Democratic Progressive Party (DPP) Legislator Pasuya Yao (姚文智) yesterday proposed removing all statues of Chiang nationwide and replacing the former president's image on coins and the NT$200 bill.
The Tainan City Government took action on Saturday after Tainan Mayor William Lai (賴清德) called for the removal of all statues of Chiang from school campuses in the city.
Following KMT Tainan city councilors' denunciation yesterday of the removals, the KMT legislative caucus also took Lai to task for "taking down the statues sneakily at night during the weekend," urging Lai to "stop manufacturing hatred."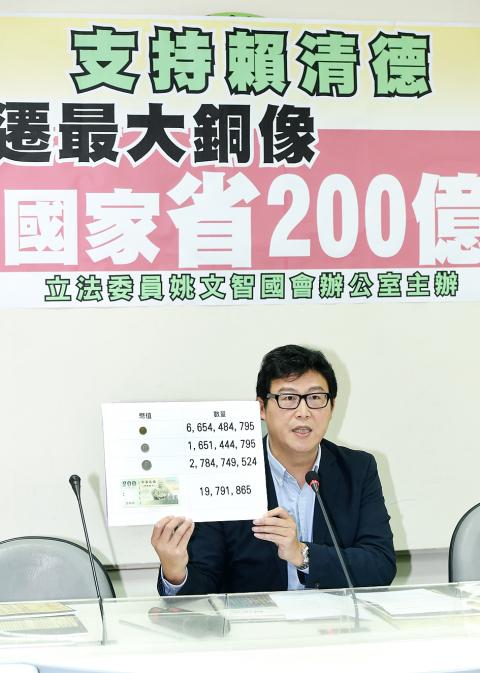 Democratic Progressive Party Legislator Pasuya Yao holds a news conference in Taipei yesterday, supporting Tainan Mayor William Lai's removal of statues of former president Chiang Kai-shek from school campuses, while also calling for coins and bills bearing Chiang's image to be withdrawn.
Photo: Lo Pei-der, Taipei Times
KMT deputy caucus whip Liao Kuo-tung (廖國棟) said schools are supposed to be autonomous on this issue and there are different perspectives from which historical figures are assessed.
"History is history; education is education," Liao said, adding that the educational environment should not be marred by historical controversy.
KMT Legislator Chen Shu-hui (陳淑慧) called Lai's order to remove the statues without consulting school principals, teachers or parents an "authoritarian" move.
In stark contrast to the KMT, Yao, who also held a press conference yesterday, called for an expansion of Lai's policy to a complete sweeping away of statues of Chiang nationwide.
Yao showed copies of court verdicts on which Chiang had added his own comments and altered the sentences to executions.
It would be shameful for Taiwan if it did not remove the statues and currency commemorating a dictator, Yao said.
He voiced his support for Lai's removal of the statues, calling it the beginning of a move to end hatred and proposed moving the largest statue of Chiang in Taipei, the one at the Chiang Kai-shek Memorial Hall, to the Cihu Mausoleum in Taoyuan's Dasi District (大溪區).
"It's not like we are throwing it into the ocean; those who wish to pay tribute to him can still visit Cihu," Yao said, adding that the memorial hall without the statue could be transformed into a branch of the National Palace Museum to help solve the museum's overcrowding problem.
Yao also proposed having the NT$1, NT$5 and NT$10 coins and the NT$200 bill, which all have an image of Chiang on them, recalled and replaced.
Chiang's image on the money should be replaced by that of people who would help society better understand Taiwan's democratic history, such as Chen Cheng-po (陳澄波), a renowned Taiwanese painter executed by the KMT regime in 1947, or Deng Nan-jung (鄭南榕), who in 1989 set himself ablaze to protest against the regime's repression of freedom of speech, Yao said.
Chuang Chu Yu-nu (莊朱玉女), a woman who sold meals for NT$10 for decades to help low-income families, who passed away earlier this month, would also be an option, Yao said.
A Department of Issuing official at the central bank, who declined to be named, said yesterday that the bank has no comment on the issue.
Additional reporting by Amy Su
Comments will be moderated. Keep comments relevant to the article. Remarks containing abusive and obscene language, personal attacks of any kind or promotion will be removed and the user banned. Final decision will be at the discretion of the Taipei Times.