Ma makes unexpected visit to Singapore
FAMILY WAKE: The premier was bombarded with questions about the nature of Ma's visit following media reports saying that 'Ma was on a private trip'
President Ma Ying-jeou (馬英九) yesterday made an unexpected visit to Singapore to pay tribute to the late Singaporean prime minister Lee Kuan Yew (李光耀), with government officials offering ambiguous answers to questions about in what capacity Ma is making the trip.
Premier Mao Chi-kuo (毛治國) told lawmakers during a question-and-answer session at the legislature that Ma was traveling to Singapore as the "head of state."
A government official, who asked to remain anonymous, said Ma was invited by Singaporean Prime Minister Lee Hsien Loong (李顯龍), one of Lee Kuan Yew's sons, to attend a private family wake at the official residence of the prime minister in his capacity as Lee Kuan Yew's "old friend."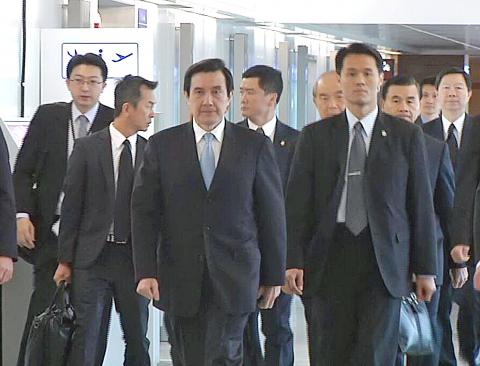 President Ma Ying-jeou, center, yesterday arrives at Taiwan Taoyuan International Airport with his entourage. President Ma made an unexpected visit to Singapore to pay tribute to the late Singaporean prime minister Lee Kuan Yew.
Photo: CNA
While the trip was "personal" in nature, that did not change the "universally known fact" that Ma is the president of the Republic of China (ROC), the official said.
"Ma is the president of the ROC wherever he is," the official said.
The official said that Ma has not been invited to the state funeral on Sunday, which many world leaders are expected to attend, including Chinese President Xi Jinping (習近平) after Xinhua news agency reported that the Chinese leader would attend the funeral.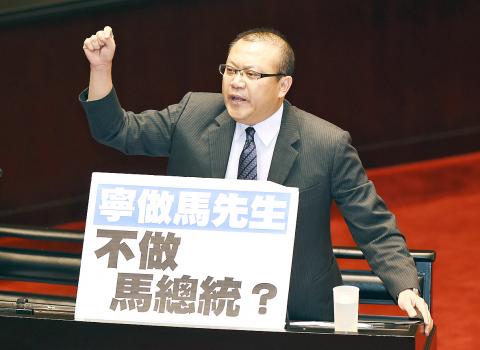 Democratic Progressive Party Legislator Su Chen-ching, speaking at the Legislative Yuan in Taipei yesterday, criticizes President Ma Ying-jeou for visiting Singapore in a personal capacity to pay his respects following the death of former Singaporean prime minister Lee Kuan Yew.
Photo: Liao Chen-huei, Taipei Times
It was the second time an ROC president has been able to visit Singapore, which has maintained unofficial relations with Taiwan despite establishing diplomatic relations with China in 1990, following a visit by former president Lee Teng-hui (李登輝) in 1989.
Ma and a small entourage, including former National Security Council secretary-general Hu Wei-chen (胡為真) and former Control Yuan president Frederick Chien (錢復), arrived in Singapore at 4:25pm on a China Airlines Boeing 737-800 after a four-and-a-half-hour flight.
The government kept details of the trip secret, but several media outlets broke the news online before Ma's departure at 11:30am.
The Central News Agency cited anonymous sources as saying that Ma, Hu and Chien met with Lee Hsien Loong at his residence to discuss their memories of Lee Kuan Yew.
Ma was scheduled to arrive at Taiwan Taoyuan International Airport at 11:30pm last night.
At the legislature in Taipei, Mao was bombarded with questions from Democratic Progressive Party (DPP) lawmakers regarding the nature of Ma's visit following media reports that quoted sources at the Presidential Office saying that "Ma was on a private trip."
Mao said he was not "part of the planning" of the visit, so he could not comment on a question from DPP Legislator Chiu Yi-ying (邱議瑩) about whether Beijing's consent was required for the visit.
After DPP lawmakers criticized Ma for "sneaking out of the country," Mao repeatedly said the trip was kept quiet to "respect the wishes of Singapore and Lee [Kuan Yew]'s family."
"The head of the country is required to explain his motive when leaving the country; otherwise how do we know that he is not absconding with money on a plane?" DPP Legislator Chen Chi-mai (陳其邁) said.
"We have to understand that there is no diplomatic relationship between Taiwan and Singapore, and we have to respect Singapore's arrangements, but I am sure that President Ma would be treated as a head of state," Mao said.
In Beijing, China's Taiwan Affairs Office spokesperson Fan Liqing (范麗青) and Ministry of Foreign Affairs spokesperson Hua Chunying (華春瑩) urged Singapore to observe the "one China" principle when dealing with Taiwanese paying tributes to Lee Kuan Yew, since he had always upheld the "one China" policy himself.
Meanwhile, former vice presidents Lien Chan (連戰) and Vincent Siew (蕭萬長), and former premier Hau Pei-tsun (郝柏村) — Chinese Nationalist Party (KMT) members — and former premier Su Tseng-chang (蘇貞昌) of the DPP have been invited to attend the state funeral, all in an individual capacity, Ministry of Foreign Affairs sources said.
Comments will be moderated. Keep comments relevant to the article. Remarks containing abusive and obscene language, personal attacks of any kind or promotion will be removed and the user banned. Final decision will be at the discretion of the Taipei Times.