Support for third political force: poll
POLITICAL EVOLUTION: A Taiwan Brain Trust survey shows that last year's Sunflower movement has galvanized support for a third political force or party, the think tank said
One year on from the Sunflower movement, people are now more supportive of a third political force in next year's legislative elections, a survey conducted by the Taiwan Brain Trust showed yesterday.
"The Sunflower movement last year was a very important event in Taiwanese politics; it certainly contributed to the election of independent Taipei Mayor Ko Wen-je (柯文哲) and could have an impact on next year's legislative election," the think tank's chairman, Wu Rong-i (吳榮義), told a news conference to release the results of the poll conducted last week on current political issues.
"According to the poll, 46.4 percent of respondents said they might or would definitely support candidates from a third political force and 46 percent said they would cast their second vote for a third political party," Wu said.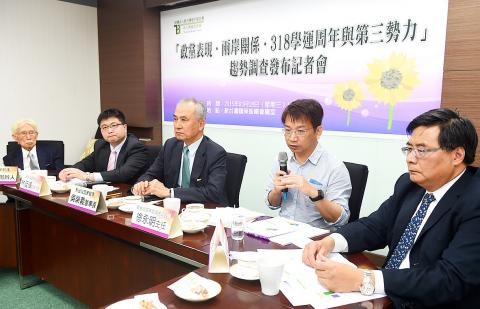 Taiwan Brain Trust members yesterday discuss the results of a poll at a press conference in Taipei, watched by the think tank's founder, Koo Kwang-ming, left.
Photo: Chien Jung-fong, Taipei Times
As many as 58.4 percent of respondents believed that the Chinese Nationalist Party (KMT) was defeated in last year's nine-in-one elections not by the Democratic Progressive Party (DPP), but by young voters and society as a whole, Wu added.
"As many as 54.9 percent of respondents are opposed to the prosecution of people who took part in the Sunflower movement, and only 37.8 percent believe the prosecutions are legitimate," Wu said.
However, although 72.3 percent of respondents believe that the DPP will defeat the KMT in next year's presidential election, the results of the poll show that the DPP's support rate, while higher than the KMT's, is dropping.
"The support rate for the KMT grew slightly from 11 percent [in December] to 16.7 percent [in January] and 18.3 percent now, while its dissatisfaction rate dropped from 80 percent [in December] to 77.2 percent [in January] and to 74.9 percent now, showing that its decline may have halted," Soochow University associate professor of political science Hsu Yung-ming (徐永明) said. "Meanwhile, the dissatisfaction rate with the DPP climbed from 35.4 percent [in December] to 43.1 percent [in January] and to 38.4 percent now, while its approval rating slid from 46.3 percent [in January] to 37.8 percent."
"The drop in approval ratings among pan-green supporters — from 67.4 percent to 54.8 percent — is especially obvious. It might have been caused by the recent scandals over the council speaker election and [the DPP] presidential primary, but it is a warning sign for the DPP," he added.
While the support rate for both parties remained low, the approval ratings for both parties' chairpersons were high — with the DPP's Tsai Ing-wen (蔡英文) garnering 59.6 percent, while the KMT's Eric Chu (朱立倫), the New Taipei City mayor, received 52.4 percent.
"Interestingly, both politicians attract support from each other's party," Hsu said. "If we compare the results to the high support for a third political force, we may infer that party lines have blurred."
In such a climate, political parties should employ new thinking and new strategies, Hsu said.
Comments will be moderated. Keep comments relevant to the article. Remarks containing abusive and obscene language, personal attacks of any kind or promotion will be removed and the user banned. Final decision will be at the discretion of the Taipei Times.