Tzu Chi retracts controversial project
NOT CONVINCED: Following the announcement that the Neihu District project would be retracted, activists alleged that the under-fire foundation was just trying to buy time
The Buddhist Compassion Relief Tzu Chi Foundation yesterday announced that it would retract its proposed development plan to set up a logistics center and workshops for disaster relief in a geologically sensitive protected area in Taipei's Neihu District (內湖), while saying that it would make public all records about donations by its followers and how the money is spent.
Tzu Chi deputy chief executive Wang Tuan-cheng (王端正) told a news conference in Hualien that the foundation is "deeply unnerved" by the controversy sparked by the development plan and would retract its proposal to rezone a 4.4 hectare plot until society could reach a consensus on the issue.
Environmentalists say that the proposed site is located on a former pond which the foundation illegally reclaimed, increasing the chances of flooding in nearby farmland.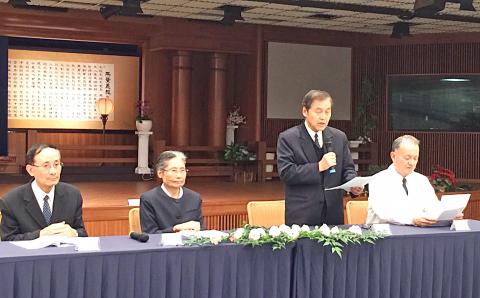 Buddhist Compassion Relief Tzu Chi Foundation deputy chief executive Wang Tuan-cheng, second right, speaks at a news conference in Hualien yesterday.
Photo: CNA
In addition, potential dip slopes are present in the area, which could lead to landslides, they say.
To promote environmental protection, Tzu Chi would cooperate with the Taipei City Government and seek advice on how to care for the protected area, Wang said.
Furthermore, Tzu Chi would restructure itself by inviting reputable individuals to serve as members of its board of directors to monitor and improve the foundation's operations, he said.
Foundation deputy chief executive Lin Pi-yu (林碧玉) said Tzu Chi would make information about donations available online from Friday, while expenditure would be made public starting from Wednesday next week.
Lin made the announcement after media personalities Clara Chou (周玉蔻) and Jimmy Wang (汪潔民) last week accused Tzu Chi of pocketing donations, including a NT$1.5 billion (US$47.1 million) sum from its emergency reserve to purchase real estate.
Stock analyst Huang Shih-tsung (黃世聰) alleged that the foundation misappropriated funds it acquired for disaster relief to purchase bonds and stock.
Environmental activists criticized Tzu Chi's announcement.
Treasure Our Land, Taiwan secretary-general Lin Tzu-lin (林子淩) said Tzu Chi is trying to buy time to gather the opinions of those who are in favor of the project and that it still intends to develop the protected area.
"What is the point in vowing to publish its accounts when there is so much confusion about its past dealings? Besides, it failed to respond to accusations it bought stock using donations," Lin said.
In a press release, Taipei Deputy Mayor Charles Lin (林欽榮) expressed his thanks to Tzu Chi for proactively resolving years of controversy surrounding the development proposal.
He said the city government would send the withdrawal documents to the Taipei Urban Planning Commission as soon as they were received, expressing his hope that the land could become part of a gradual restoration of the ecology of Dahu (大湖).
Additional reporting by Abraham Gerber
Comments will be moderated. Keep comments relevant to the article. Remarks containing abusive and obscene language, personal attacks of any kind or promotion will be removed and the user banned. Final decision will be at the discretion of the Taipei Times.