MRT killer sentenced to death
GUILTY: The court found Cheng Chieh did not show signs of mental deficiencies at the time of the attack, while his lawyers accused the judges of pandering to the media
The New Taipei City District Court collegiate bench yesterday found MRT killer Cheng Chieh (鄭捷) guilty on four counts of murder and 22 counts of attempted manslaughter, handing down four death sentences and prison sentences ranging from five to eight years, amounting to a total jail term of 144 years.
Cheng's citizen's rights have also been revoked for life.
The ruling may be appealed, the court said.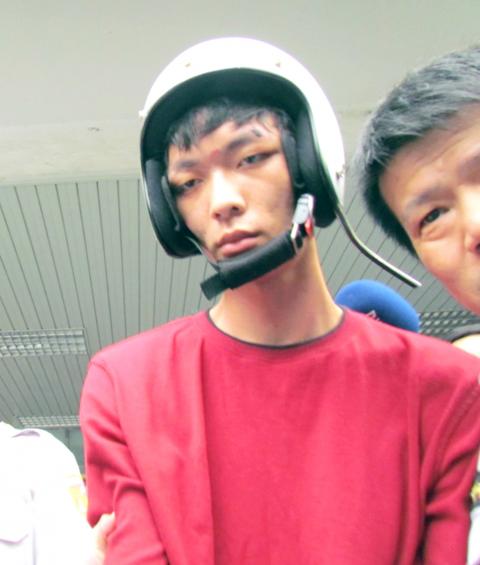 Cheng Chieh, who went on a stabbing rampage on Taipei's Mass Rapid Transit system on May 21 last year, is led by police in New Taipei City on July 21 last year.
Photo: CNA
Cheng, then a student of Tunghai University, attacked passengers on Taipei's MRT metro rail system on May 21 last year on the Bannan Line between Longshan Temple Station and Jiangzicui Station. He killed Hsieh Ching-yun (解青雲), Chang Cheng-han (張正翰), Lee Tsui-yun (李翠雲) and Pan Pi-chu (潘碧珠), and injured 22 others.
Cheng had initially said that he was tired of life, but was afraid of committing suicide, so he committed multiple counts of murder so that he would be assured of capital punishment.
The court found that Cheng did not exhibit signs of psychotic abnormalities or mental deficiencies at the time of his actions.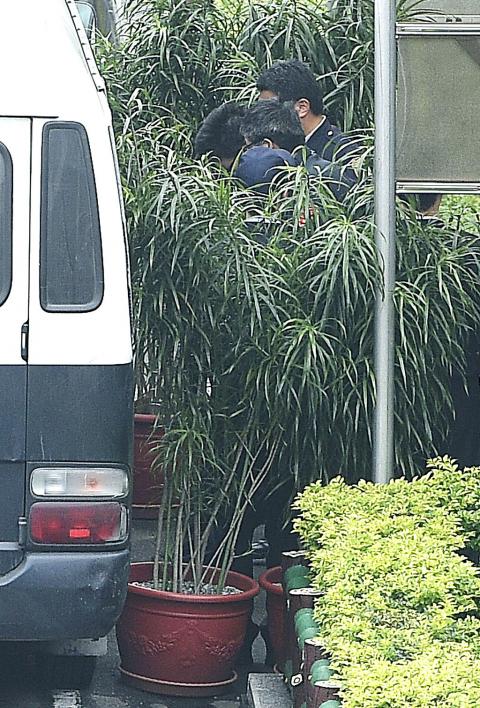 Cheng Chieh, hidden, is moved to a police van outside the New Taipei City District Court yesterday.
Photo: Chen Chih-chu, Taipei Times
Central Police University professor Shen Sheng-ang (沈勝昂) said the possibility of Cheng being rehabilitated was unlikely, adding that "Cheng's situation is akin to that of a terminal-stage cancer patient."
Cheng's initial aloofness and silence, as well as his failure to apologize to the victims' families, saw an abrupt turn on Feb. 10, when he broke his silence to say he would undergo psychiatric consultation and would not resort to violence and murder again if given the chance for parole.
According to sources, Cheng's sudden change in attitude was due to his belief that he could accept a life sentence and perhaps make a living by starting a small business if he were to be released on parole.
One source quoted Cheng saying to his friends that "[If I] win [the case], we'll have the chance of living our lives as we like; [if I] lose, we'll meet in another life as heroes."
Cheng's lawyers sought to rationalize his attitude after the killings by saying that his thinking was like that of a teenager, believing that if he showed any regret, he would lose face.
That is why he seemed aloof, although he knew what he did was wrong, they said.
"We understand that the court is under great pressure from the media, but trying to demonize the defendant will not help society," Cheng's lawyers said in a statement.
His lawyers also criticized the presiding judges, saying that the court violated their client's rights by forcing him to attend court to hear the ruling, as he was not by law mandated to be present.
"By forcing our client to appear at court simply for maximum media effect, the judges have lost focus and have endangered the equality and uniformity of the law, creating an exception that might be followed in future cases," the lawyers said.
Meanwhile, family members of the victims said that the ruling was in accordance with the public's expectations, but they could not condone the comments from Cheng's lawyers.
Lee's brother Lee Jui-chang (李瑞昌) said he was glad the New Taipei City District Court judges were just, and that he hoped judges in the appellate courts would continue to uphold the ruling.
The reasons cited by the lawyers for the murders sought to deny Cheng's responsibility in the matter, Lee Jui-chang said, adding that he hoped the day for the final ruling on Cheng's capital punishment could be expedited.
Additional reporting by CNA
Comments will be moderated. Keep comments relevant to the article. Remarks containing abusive and obscene language, personal attacks of any kind or promotion will be removed and the user banned. Final decision will be at the discretion of the Taipei Times.