Prisoners take warden, guards hostage
UNDER SIEGE: Kaohsiung police deployed a heavily armed force of 250, including SWAT teams, Marines and special forces while they tried to negotiate a surrender
Six convicts carrying rifles and handguns yesterday took hostages at Kaohsiung Prison in what is being called the biggest jailbreak attempt in Taiwan's history, triggering a massive show of force by SWAT teams and various police units outside the facility that was continuing as of press time last night.
Authorities were continuing negotiation efforts last night with the six prisoners, reportedly led by Cheng Li-te (鄭立德), a member of the Bamboo Union (竹聯幫) triad imprisoned for murder, who were holding warden Chen Shih-chih (陳世志) hostage.
There were tense scenes outside the facility in Daliao District (大寮), as the Kaohsiung City Police Department coordinated the deployment of more than 250 officers, including riot police, SWAT teams and a Marine assault squad, along with other units of military special operation forces, all of them heavily armed.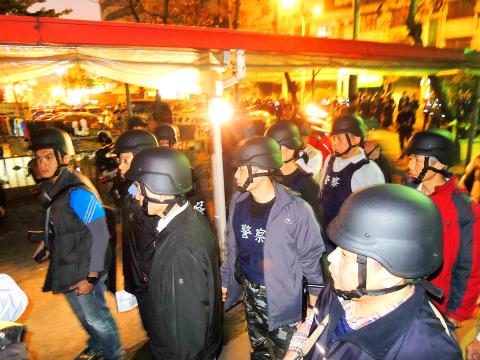 Police officers gather outside Kaohsiung Prison in Daliao District yesterday evening as a hostage situation continued inside the facility.
Photo: CNA
Authorities had not tried to storm the prison to prevent causing an even larger jailbreak or fatalities, as Kaohsiung Prison is among the largest correctional facilities in southern Taiwan, with more than 2,000 inmates.
It was reported that the six convicts broke into the facility's weapons depot before 4pm, and took possession of six assault rifles and four handguns, along with ammunition and other supplies.
The convicts also took three prison officials hostage, including the head of the prison's Guard and Control Section.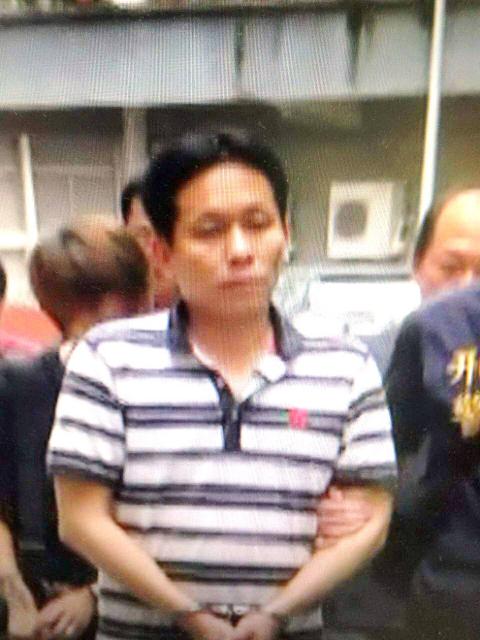 Cheng Li-te, an inmate of the Kaohsiung Prison in Kaohsiung's Daliao District involved in the prison riot yesterday, is pictured in an undated photograph.
Photo retaken by Huang Liang-chieh, Taipei Times
According to witness accounts, dozen of shots rang out in the late afternoon as the convicts exchanged fire with prison guards trying to end the hostage standoff, but no injuries were reported at that time.
They later agreed to release the original staff members in exchange for the prison warden Chen Shih-chih (陳世志) and another senior staffer, Ministry of Justice officials said
"The important task is to ensure the safety of hostages and other prisoners," Deputy Minister of Justice Chen Ming-tang (陳明堂) said last night. "The priority is on talking and negotiating with the convicts to persuade them to release the hostages and to surrender peacefully."
Chen Ming-tang confirmed news reports that the reported head of the jailbreak group, Cheng Li-te, is the boss of a local Kaohsiung chapter of the Bamboo Union and that he is serving a 28-and-a-half-year term for murder, firearm possession and other offenses.
He also confirmed that the other five convicts in the group were all serving more than 10-year terms for murder, drug possession, burglary and other offenses.
Chen Ming-tang said the convicts have spoken to negotiators and made calls to various media organizations to relay their demands for the police to provide them with two cars with full tanks for their getaway, while promising that their hostages would be released when they arrived at a safe destination.
The convicts told media by telephone that the police must not storm the prison, and if that happens, they will fire their weapons without hesitation.
Authorities said they have sent in the local police chief and deputies, along with family members and close associates of the six convicts to persuade them to surrender.
Police have placed spike strips to puncture car tires and 16 reinforced barriers and check-points on the roads leading outside the facility in case of the convicts try to escape in vehicles.
As of press time, Premier Mao Chi-kuo (毛治國) was due to arrive outside the prison to coordinate the police operation and security measures.
This story has been updated since it was first published.
Comments will be moderated. Keep comments relevant to the article. Remarks containing abusive and obscene language, personal attacks of any kind or promotion will be removed and the user banned. Final decision will be at the discretion of the Taipei Times.