Yeh Shi-wen's corruption trial closes
VERDICT IN MARCH: The former Taoyuan county official has confessed to some charges, but pleaded not guilty to others. He also applied for bail
The corruption trial of former Taoyuan county deputy commissioner Yeh Shi-wen (葉世文) wrapped up yesterday with the Taipei District Prosecutors' Office asking for a 61-year prison sentence and a fine of NT$30 million (US$946,800).
Prosecutors asked for a nine-year term and NT$500,000 fine for Yeh's alleged accomplice, Farglory Land Development Co (遠雄建設) chairman Chao Teng-hsiung (趙藤雄), who was indicted on bribery-related charges.
The Taipei District Court is scheduled to deliver its verdict on March 20.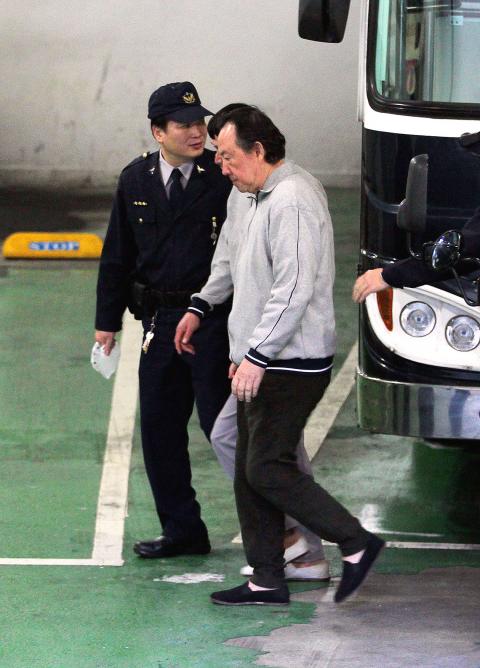 Former Taoyuan county deputy commissioner Yeh Shi-wen, front center, arrives at the Taipei District Court yesterday, for the final session of his trial on corruption charges involving several development projects.
Photo: CNA
Yeh and Chao's fellow defendants are former National Taipei University of Technology professor Tsai Jen-jui (蔡仁惠), former Farglory vice president Wei Chun-hsiung (魏春雄) and a female friend of Yeh's, Chen Li-ling (陳麗玲), who were charged with bribery and corruption.
The trial centered on several developments in the now Greater Taoyuan — some affordable housing projects in Bade (八德), an affordable housing project next to the A7 MRT station of Taiwan Taoyuan International Airport and the Danhai New Town project.
Yeh also faced a charge of unverifiable sources of income, as amendments to the Anti-Corruption Act (貪污治罪條例) in 2011 stipulated that civil servants, their spouses and children had legal responsibility to explain in full if their assets or wealth saw an unreasonable increase, when compared with their income, within three years of being suspected of violating the act.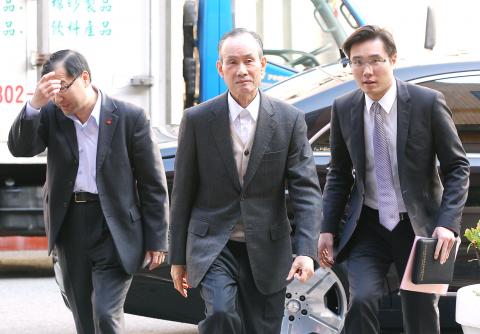 Farglory Land Development Co chairman Chao Teng-hsiung, center, arrives at the Taipei District Court yesterday, where he has been on trial for bribery-related charges linked to former Taoyuan county deputy commissioner Yeh Shi-wen.
Photo: CNA
Failure to provide an explanation or speak the truth is punishable by up to five years in prison, or a fine.
During the trial, Yeh had admitted accepting bribes in connection with the Bade projects and to having unverifiable income, but denied the other charges.
Yeh said that he took the bribes for the A7 project after Tsai, the alleged go-between, brought him NT$4 million, but he said that he had not asked for the money.
He said he regretted taking NT$16 million linked to the Bade project and asked the court to hand down a light sentence, adding that he hoped to be allowed to post bail so he could return home for the Lunar New Year holiday.
Chao has denied all charges against him and said that he was the "victim" in the case.
His lawyer criticized Tsai, who appeared as a state witness in court, and said Tsai's confession and testimony were paradoxical and illogical, adding that Chao had been afraid of getting on Yeh's bad side and was forced to give Yeh money.
Tsai said he had only acted as an intermediary, transferring money between all the parties. He said that after being detained last year, he had decided to admit his crimes and tell the truth.
Tsai's lawyer, Fu Tzu-sheng (傅祖聲), said that his client, who was educated in the University of Tokyo and holds a doctorate in architecture from a US university, was the only defendant with a higher education and that Farglory's many "green" buildings owed a debt to Tsai's contributions.
Tsai was like an artist and his emotions often won over his rational side, Fu said, adding that his client did not have a clear grasp of time, which led to differing accounts of time in his testimony.
Fu said he hoped that the other defense attorneys in the trial case would not seek to trample Tsai's integrity and character in their efforts to prove the innocence of their own clients.
Wei and Chen have denied all charges against them.
Additional reporting by CNA
Comments will be moderated. Keep comments relevant to the article. Remarks containing abusive and obscene language, personal attacks of any kind or promotion will be removed and the user banned. Final decision will be at the discretion of the Taipei Times.