Ma supports reducing nuclear power
SLOWLY BUT SURELY: The president said nuclear power should be phased out gradually to avoid shortages, or violating commitments to reducing carbon emissions
Taiwan should not arbitrarily abandon any energy options if it does not want to suffer from electricity shortages, President Ma Ying-jeou (馬英九) told the National Energy Conference yesterday.
Addressing the two-day conference, which opened in Taipei yesterday, Ma agreed with calls for Taiwan to phase out nuclear power, but proposed doing so gradually and in a way that would not cause power shortages, increase electricity rates or violate the nation's commitment to reducing carbon emissions.
"Since several coal-fired power plants are scheduled to be decommissioned in a matter of years, and the Fourth Nuclear Power Plant was designed to close the subsequent gap in energy, Taiwan could face electricity shortages or rationing in the near future," he said.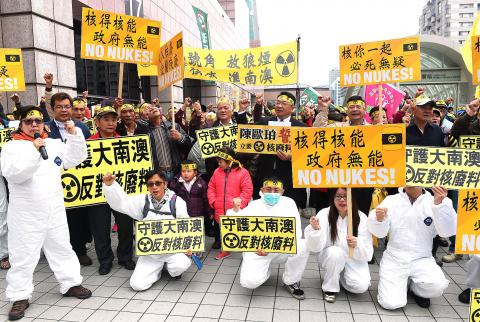 Anti-nuclear-power activists demonstrate yesterday outside the Taipei International Convention Center, where the National Energy Conference was being held.
Photo: Chang Chia-ming, Taipei Times
The right mix of energy sources for the nation's energy requirements should be sufficient, affordable, sustainable, reliable and clean, he added.
Citing the results of evaluations conducted by the Intergovernmental Panel on Climate Change and the International Energy Agency last year, he said that nuclear energy is a mature baseload energy source with low greenhouse gas emissions, and that the proportion of nuclear power in the global energy supply will remain at roughly 12 percent until 2040.
Renewable energy sources, despite having been forecast to make the biggest leap by 2040 to make up 33 percent of overall supply, will be largely constituted by hydroelectric power, and the proportion made up of solar and wind energy will not be overwhelming, he said.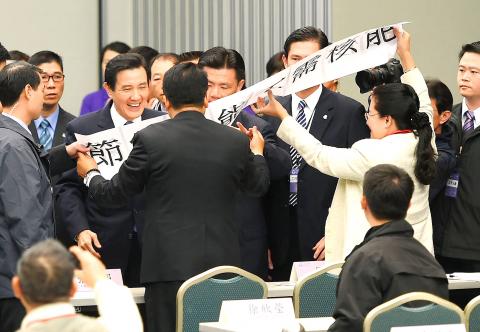 Democratic Progressive Party legislators Chen Ou-po, left, holding banner, and Tien Chiu-chin, right, yesterday present President Ma Ying-jeou, third left, with a banner saying that nuclear power is not a requirement for a green energy policy. Ma had earlier delivered an address to the National Energy Conference at the Taipei International Convention Center.
Photo: Chang Chia-ming, Taipei Times
Ma said he hoped the two-day event would "at least help to summarize objective facts" regarding the energy source options available to the nation, thereby helping parties with disparate views on Taiwan's energy policies put aside their differences and arrive at a consensus.
After his opening remarks, Ma was met by Democratic Progressive Party legislators Chen Ou-po (陳歐珀) and Tien Chiu-chin (田秋堇) beside the stage, who held a banner that read: "Promote green energy and energy conservation. We don't need nuclear power."
Shortly before the conference, the duo led about 200 residents from Yilan County's Dananao area (大南澳) in a protest outside the conference against what they said was a clandestine government plan to bury nuclear waste in their hometown.
Chen said that the Bureau of Energy and the Atomic Energy Council had secretly established an underground laboratory designed to run analyses on the geology close to the border of Dananao and Hualien County's Sioulin Township (秀林) — a plot known as "Area 146" — as part of the government's plan to store more than 20,000 highly radioactive spent fuel rods in the area.
Tien said the vast majority of Yilan residents have long opposed the use of nuclear energy, and disposing of nuclear waste in Dananao would be unfair to the Aboriginal people living there, as it would mar one of the nation's most beautiful areas. The protest was comprised of a coalition of environmental protection groups, who criticized the government for its procrastination in developing renewable energy sources and refusing to set carbon reduction goals despite the Basic Environment Act (環境基本法) — enacted in 2002 — which clearly states that the government should implement plans to achieve the goal of a nuclear-free nation.
Green Citizens' Action Alliance secretary-general Tsuei Su-hsin (崔愫欣) said that a draft bill for levying an energy tax to promote energy conservation was still an option, as the idea was included in the conclusions reached during the previous energy conference in 2005.
Citizen of the Earth, Taiwan director Tsai Chung-yueh (蔡中岳) panned what he said was the event organizers' "authoritative" attitude toward the general public, saying they claimed that they would consider public opinion gathered during regional meetings, but arrived at the assembly without a solution.
Northern Coast Anti-Nuclear Action Alliance chairperson Hsu Fu-hsiung (許富雄) decried what he said was an opaque "black box" vetting process by the energy bureau in determining participants of the National Energy Conference, which had excluded him and many of his fellow anti-nuclear activists.
Comments will be moderated. Keep comments relevant to the article. Remarks containing abusive and obscene language, personal attacks of any kind or promotion will be removed and the user banned. Final decision will be at the discretion of the Taipei Times.