Greece heads to voting booths with EU watching closely
Greece went to the polls yesterday in a crucial general election closely watched by the rest of the continent.
The SYRIZA party — which wants to renegotiate Greece's 240 billion euro (US$269 billion) bailout deal — at press time last night led the conservative New Democracy party of Greek Prime Minister Antonis Samaras by about four points, according to the latest polls.
SYRIZA leader Alexis Tsipras said that Europe must find an alternative to austerity as he voted amid a media scrum in Athens.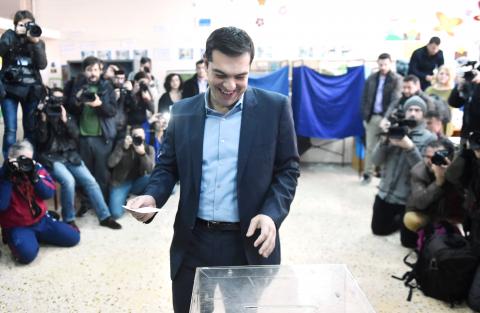 SYRIZA party leader Alexis Tsipras casts his ballot at a polling station in Athens yesterday.
Photo: AFP
"Our common future in Europe is not the future of austerity, it is the future of democracy, solidarity and cooperation," Tsipras said.
He said Greeks would regain "dignity" under a SYRIZA-led government.
In exchange for the massive bailout by the EU and the IMF in 2010, Greece was forced to accept stringent cuts in public-sector spending and tax and pay cuts.
The possibility of a SYRIZA-led government reversing those measures has sparked fears that Greece could default on its debt and quit the group of 19 countries using the single European currency, although SYRIZA says it is not its aim to leave the eurozone.
Samaras said as he voted in his home town of Pylos in the Peloponnese region that Greeks would be taking a huge risk by turning to SYRIZA.
"Today we decide if are going forward or if we are going towards the unknown," Samaras said.
About 9.8 million Greeks are eligible to vote in the country's third general election in five years. Polling stations closed at 5pm GMT.
Yannis Papacostas, a 50-year-old self-employed man, said he wanted the Greek people to "wake up" after six years of economic hardship.
"The worst scenario is that the parties will not cooperate," he said.
He said he was supporting To Potami, a new pro-European party that could form part of a coalition government with SYRIZA.
Tsipras says he will confront the "troika" — the EU, IMF and the European Central Bank — to secure a reduction in Greece's debts that total 318 billion euros.
He says Greece's lenders have put the country in an "unsustainable" position, forced to make spiraling debt repayments while the economy shrinks.
The IMF has warned Greece that failure to repay its debts will carry "consequences."
German Chancellor Angela Merkel, seen as the driving force in the EU's austerity drive, said on Friday she wanted Greece to stay in the eurozone "despite the difficulties."
Comments will be moderated. Keep comments relevant to the article. Remarks containing abusive and obscene language, personal attacks of any kind or promotion will be removed and the user banned. Final decision will be at the discretion of the Taipei Times.