Chinese listening stations in Fujian Province upgraded
China has installed new aerial listening stations on the coast of its Fujian Province, a military spokesman said yesterday, adding that measures are being taken to counter surveillance and enhance the security of important electronic communications.
Ministry of National Defense spokesperson Major General David Lo (羅紹和) said the military is monitoring the development closely and that Taiwan has its own surveillance system to deal with intelligence gathering by Chinese signal-snooping stations.
The statement came one day after the Canada-based Kanwa Information Center reported that the Chinese People's Liberation Army (PLA) had set up at least three large aerial listening stations, directly across the Strait from Taiwan.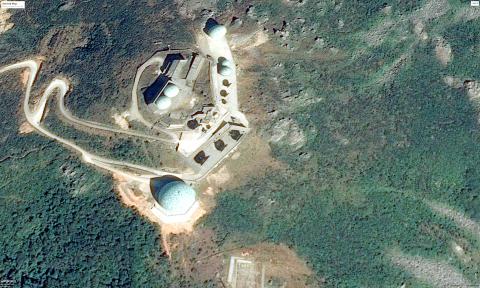 An undated picture provided by the Canadian Kanwa Information Center shows what the center said is an intelligence station set up by the Chinese Liberation Army in China's Fujian Province.
Photo: CNA, provided by Kanwa Information Center
Lo said that the ministry has instructed its telecommunications units to strictly follow established regulations on frequency signals and radio data encryption to ensure the security of classified information.
According to Kanwa, the PLA has been installing new facilities in Fujian to monitor telecommunications and radio signals, including mobile phones and other types of wireless communications, from military bases and government institutions across the nation's western region.
One new monitoring station is reportedly only about 23km from the PLA's Longtian Air Base, where S-300 PMU-2 surface-to-air missiles are deployed. All the antennae and radar dishes at the base are directed toward Taipei and Greater Taichung, Kanwa reported.
Two other new Fujian bases have installed radomes and antennae to intercept electromagnetic waves from Taiwan's military radar systems, as well as other telecommunications and radio signals, the report said.
It is known that the stations are administered by the Third Department and Fourth Department of the PLA's General Staff Department, which are responsible for "technical reconnaissance" and cyberwarfare, monitoring telecommunications traffic, electronic countermeasures and radar intelligence-gathering.
A satellite photograph in the Kanwa report shows that the monitoring station near Longtian Air Base has 10 parabolic radar antennae of various sizes, and six large radomes — a weatherproof enclosure that protects a radar antenna inside it.
According to a defense expert in Taiwan, the station is a signals intelligence base established in 1952 that has been upgraded.
Comments will be moderated. Keep comments relevant to the article. Remarks containing abusive and obscene language, personal attacks of any kind or promotion will be removed and the user banned. Final decision will be at the discretion of the Taipei Times.