Ma still running: Presidential Office
The Presidential Office yesterday refuted a report that President Ma Ying-jeou (馬英九) was advised to stop running after he almost went into shock during a 5km event in November last year, saying that he runs every morning as usual.
Ma had an uncomfortable sensation in his waist and legs during the run last year as a result of not warming-up sufficiently, but he did not fall to the ground nor go into shock, the Presidential Office said in a press release in response to a report in the latest edition of the Chinese-language Next Magazine published yesterday.
After completing the 5km run, Ma walked back to his residence and took a rest before he continued with his scheduled visits in Yilan and Penghu counties, and in Taipei later that day, the Presidential Office press release said.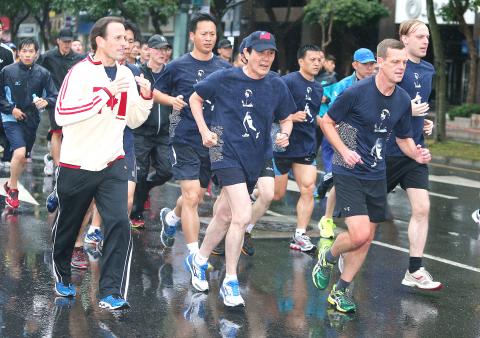 President Ma Ying-jeou, front center, takes part in the Terry Fox Run in Taipei on Nov. 15 last year.
Photo: CNA
Ma felt much better after the rest, the Presidential Office said, rejecting a report that he was given oxygen and was told by his doctor that he should not run anymore.
The report was sheer fiction and ridiculous, the Presidential Office said, adding that Ma goes for a run every morning.
Ma joined the Terry Fox charity run on Nov. 15 last year along with a group of visiting Canadian parliamentarians, including John Weston, who chairs the Canada-Taiwan Parliamentary Friendship Group.
The annual event — which aims to raise funds for cancer research — is held in recognition of Canadian Terry Fox, who had his right leg amputated as a young man due to bone cancer, but still managed to run across Canada to raise money for cancer research before he passed away in 1981.
Comments will be moderated. Keep comments relevant to the article. Remarks containing abusive and obscene language, personal attacks of any kind or promotion will be removed and the user banned. Final decision will be at the discretion of the Taipei Times.