Former Ma aide brushes off TV barb
ON TAPE: Radio host Clara Chou said evidence that the former aide wished Ting Hsin's Wei family a happy new year from Ma was proof of an inappropriate relationship
President Ma Ying-jeou (馬英九) yesterday declined to comment when asked whether a visit in 2013 by his former aide Lo Chih-chiang (羅智強) to the Wei (魏) family, which owns the scandal-ridden Ting Hsin International Group (頂新國際集團), had been on his behalf.
Ma did not reply to reporters' questions during a visit to Advantech Corp (研華科技) in Greater Taoyuan yesterday.
Media personality Clara Chou (周玉蔻) made the latest allegation to substantiate what she said was an inappropriate relationship between Ma and Ting Hsin on a TV program, broadcast at 10pm on Friday, on which Lo was also a guest.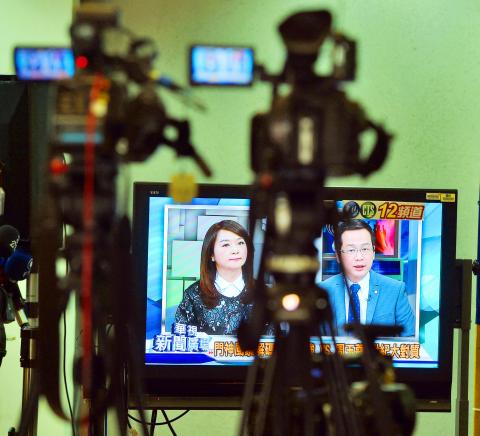 Radio host Clara Chou, left, and former Presidential Office deputy secretary-general Lo Chih-chiang face off over the Ting Hsin International Group scandal on-set at the Chinese Television System's studios in Taipei on Friday.
Photo: Wang Min-wei, Taipei Times
Chou played a tape of Lo speaking to members of the Wei family at their home, Wei Cheng-mei Hall (魏成美堂), in Changhua County during celebrations for the 2013 Lunar New Year, in which Lo said he was there to give Ma's regards to the family, as Ma was busy with official engagements.
Ma ordered Lo to pay the Wei family a vist, Chou said, adding that her previous allegation that Ma had served as the food conglomerate's "guardian angel," with Lo acting as his proxy to handle the "unusual" relationship between Ma and Ting Hsin, were "proven to be true by the tape."
Lo did not dispute the visit he made at the invitation of the Wei family, but said that Ma had no prior knowledge of the visit and that he did not brief Ma about the visit afterward, adding that the president had nothing to do with the visit.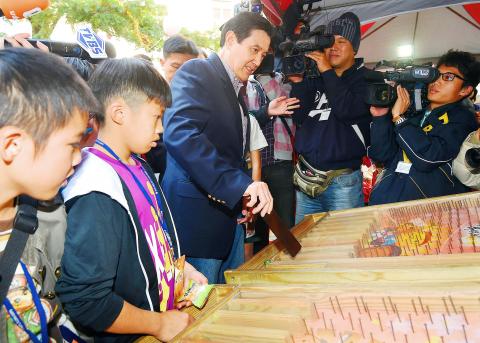 President Ma Ying-jeou, third left, plays a pinball game with children at a year-end children's party in the Presidential Office Building yesterday.
Photo: Liao Chen-huei, Taipei Times
Lo said that as he was then deputy secretary-general of the Presidential Office, it was natural for him to say that he acted on behalf of Ma.
"You might as well take what I said at that time as a lie, a conventional greeting, or you can just say that I, Lo Chih-chiang, lied. The truth is that I made the meaningless remark just to make everyone happy," Lo said.
During the TV program, Chou also said that Lo was the source of a report carried by the Chinese-language Next Magazine, which also cast into doubt the relationship between Ma and Ting Hsin, and that the magazine gave Lo NT$1 million (US$31,300) in return for information.
That issue of Next Magazine was published in October last year — when Ting Hsin was embroiled in an adulterated cooking oil scandal, the latest in a series of food safety scares involving its affiliated companies — in which it reported that Ma assisted the Wei family in securing cross-strait trade of agricultural products.
Lo flatly denied the allegation, calling it "baseless hearsay."
Asked for comment yesterday, Next Magazine publisher Pei Wei (裴偉) also dismissed the allegation, saying it was simply "out of the question."
Earlier this week, Lo said he had interacted with members of the Wei family four times in 2013: the Lunar New Year visit; a meeting at the Presidential Office when some members of the Wei family visited Ma; and two other occasions where he was invited to dine with Ting Hsin chairman Wei Ying-chiao (魏應交).
Comments will be moderated. Keep comments relevant to the article. Remarks containing abusive and obscene language, personal attacks of any kind or promotion will be removed and the user banned. Final decision will be at the discretion of the Taipei Times.