Five dead as passengers recount terror aboard ferry inferno in Adriatic Sea
TOTAL CHAOS: After the last of the survivors were saved in a hellish rescue mission, passengers said the crew had essentially failed to respond at all when the fire broke out
At least five people died after a car ferry caught fire in the Adriatic Sea, Greek and Italian officials said yesterday, as survivors described a terrifying ordeal that could easily have been much more deadly.
Four bodies were recovered from the waters around the stricken Norman Atlantic yesterday, a day after the body of a 62-year-old Greek man was pulled from the sea.
A 24-hour evacuation operation that proved to be extremely difficult was concluded shortly after midday, with the Italian navy saying only a skeleton crew of nine men had been left on board to prepare for the boat being towed to port.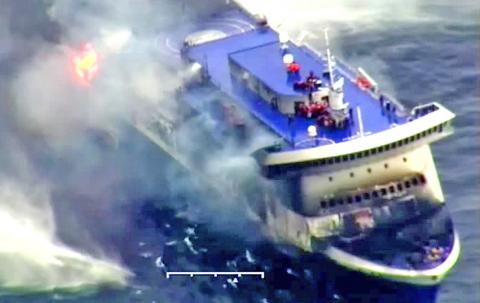 The Norman Atlantic ferry burns as it drifts off the coast of Albania in a screen grab from a video made available by the Guardia Costiera, Italy's coast guard, on Sunday.
Photo: AFP
Wrapped in blankets and sporting bandages, 49 of the 478 passengers and crew who were on board the ferry when it caught fire shortly after dawn on Sunday disembarked from merchant ship Spirit of Pireus at the Italian port of Bari.
They and other evacuees told of how the fire had triggered panic that the crew appeared ill-prepared to deal with.
One of the first passengers off the merchant vessel in Bari told reporters he had thought he was going to die as parts of the boat became engulfed by thick smoke as the ferry traveled from Greece from Italy.
"We did not know what to do. The staff had no idea how to get people off the boat," he said. "The lifeboats did not work, there was only one of them in the water and none of the crew were there to help people."
Some of the rescued displayed mild symptoms of hypothermia, but doctors said they were mainly dealing with shock and trauma.
The evacuation was completed nearly 36 hours after a fire broke out on the car deck and left the huge vessel drifting dangerously in high seas off the coast of Albania.
With a second navy boat at the scene able to provide a landing deck for helicopters, the pace of the evacuation accelerated significantly yesterday. Once it was complete, questions began to be asked about how the fire started and why it was not contained.
Bari prosecutor Giuseppe Volpe announced a criminal investigation that will seek to establish if negligence contributed to the disaster.
The ferry's owner, Italian Carlo Visentini, said he would cooperate.
He said that the vessel, which was leased to Greek operator ANEK ferries, had passed a technical inspection which included its firedoors on Dec. 19.
Comments will be moderated. Keep comments relevant to the article. Remarks containing abusive and obscene language, personal attacks of any kind or promotion will be removed and the user banned. Final decision will be at the discretion of the Taipei Times.