Hippo A-ho dies after fatal falls, keeper faces jail
A-ho, the male hippopotamus that sustained serious injuries when it fell from a moving truck as he was being transported to a zoo on Friday, was found dead yesterday morning in Greater Taichung.
Caretakers found the animal's body at about 6:30am in a pond after noticing that it had not swum ashore to rest overnight.
The hippo had been placed in a pond at a farm in Taichung following Friday's incident, but not before suffering a second fall on Saturday while being transported to receive treatment. A-ho fell from a height of 2m after a cable on a hoist holding the container he was in snapped.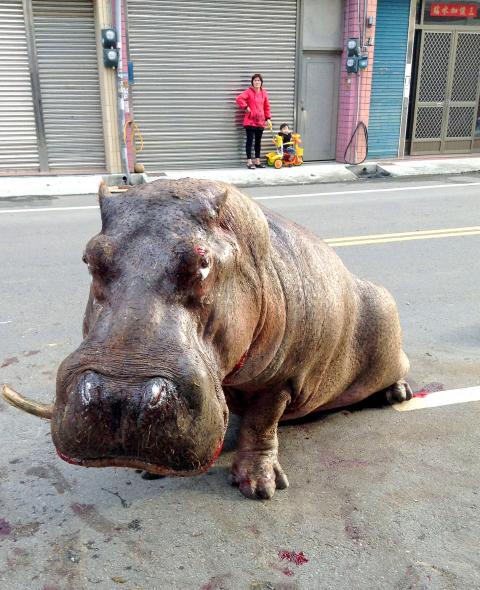 Hippopotamus A-ho lies on a street in Miaoli County on Friday after falling from a moving truck while being transported to Sky Zoo in Greater Taichung.
Photo: EPA
An autopsy report issued by Taipei Zoo yesterday afternoon found that the hippo had sustained a 30cm to 40cm laceration to the right of its septum and that its lungs had dropped into its abdominal cavity, while the surface of its liver showed signs of hemorrhaging.
Council of Agriculture Minister Chen Bao-ji (陳保基) said that the keeper at the Taichung-based Sky Zoo (天馬牧場) who was in charge of the mammal would face the maximum punishment of one year in jail over A-ho's death.
Regardless of the technical reasons behind the accidents, it is clear that they were the result of Sky Zoo's negligence, Chen said.
"Now that the hippopotamus is dead, its keeper will face the maximum punishment stipulated in the Animal Protection Act (動物保護法)," he added.
Article 30 of the act states that those who mistreat animals, leading to injuries or death, face a maximum prison term of one year, Chen said.
Meanwhile, the Environment and Animal Society of Taiwan (EAST) lashed out at Sky Zoo, saying that the facility could not provide any documents proving its ownership of the hippo, but had still displayed it as part of its menagerie.
EAST director Chen Yu-min (陳玉敏) called for Article 9, Clause 1 of the act to be amended to include punishments for facilities that inadequately transfer animals.
The group also highlighted a string of loopholes in the act, which it said does not contain any regulations on how animals are sourced, traded, sold, bred or exhibited.
Saying that A-ho's case provided only a glimpse into the atrocious treatment animals routinely receive at zoos and facilities that put on animal performances and exhibitions, EAST requested that local governments launch a systematic probe into such establishments — including to inventory the animals they possess, and determine the creatures' origins and health conditions — and asked the council to oversee the process.
EAST chief executive officer Wu Hung (朱增宏) criticized Taipei Zoo for adopting what it called an apathetic attitude after learning of A-ho's accidents, even though it possesses the largest animal care and medical treatment resources in the nation.
Democratic Progressive Party Legislator Tien Chiu-chin (田秋堇) called on members of the legislature's Economics Committee to pass a draft amendment to the act that would require all facilities housing animals to acquire a license before they are allowed to start operations.
Current regulations only require such facilities to register with local governments, and they only deal with performances and exhibitions involving protected species.
Comments will be moderated. Keep comments relevant to the article. Remarks containing abusive and obscene language, personal attacks of any kind or promotion will be removed and the user banned. Final decision will be at the discretion of the Taipei Times.