Rover finds clues that Mars may harbor life
Life on Mars? Today? The notion may not be so far-fetched after all.
A year after reporting that NASA's Curiosity rover had found no evidence of methane gas on Mars, all but dashing hopes that organisms might be living there now, scientists reversed themselves on Tuesday.
Curiosity has now recorded a burst of methane that lasted at least two months.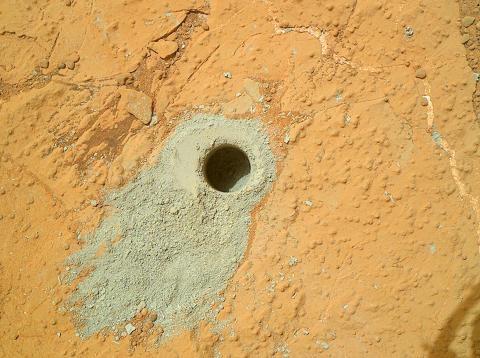 Martian rock target, "Cumberland," into which the rover Curiosity has drilled, is pictured on May 19 last year in a photograph provided by NASA.
Photo: Reutres
For now, scientists have just two possible explanations for the methane. One is that it is the waste product of certain living microbes.
"It is one of the few hypotheses that we can propose that we must consider as we go forward," mission project scientist John Grotzinger said.
The scientists also reported that, for the first time, they had confirmed the presence of carbon-based organic molecules in a rock sample. The so-called organics are not direct signs of life, past or present, but they lend weight to the possibility that Mars had the ingredients required for life and may even still have them.
"This is really a great moment for the mission," Grotzinger told a news conference in San Francisco at the fall meeting of the American Geophysical Union.
The presence of methane is significant because the gas cannot exist for long.
Calculations indicate that sunlight and chemical reactions in the Martian atmosphere would break up the molecules within a few hundred years, so any methane there now must have been created recently.
It could have been created by a geological process known as serpentinization, which requires both heat and liquid water — or it could be a product of life in the form of microbes known as methanogens, which release methane as a waste product.
Even if the explanation for the methane turns out to be geological, the hydrothermal systems would still be prime locations to search for signs of life.
Comments will be moderated. Keep comments relevant to the article. Remarks containing abusive and obscene language, personal attacks of any kind or promotion will be removed and the user banned. Final decision will be at the discretion of the Taipei Times.