Sydney hostage drama grips Australia
TERROR OPERATION? News footage showed people with their arms in the air inside the cafe, while a man carrying a sawn-off shotgun was reported in control
A lone gunman kept terrified staff and customers captive into the night yesterday in a downtown Sydney cafe, brandishing an Islamic flag, as five of his hostages managed to flee for their lives.
The pre-Christmas siege of the Lindt Chocolat Cafe triggered a security lockdown in an area of Australia's biggest city that houses several government and corporate headquarters, as hundreds of armed police surrounded the site.
The government said there was no clear motivation, but the flag appeared to be one commonly used by jihadist groups bearing the Shahada, or profession of faith in Islam.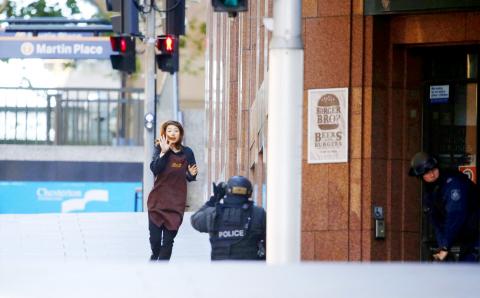 A woman runs toward a police officer yesterday outside the Lindt Chocolat Cafe in Martin Place, Sydney, Australia, where hostages were being held by a gunman.
Photo: Reuters
More than 40 Australian Muslim groups jointly condemned the siege and the use of the flag, which they said had been hijacked by "misguided individuals that represent no-one but themselves."
"We reject any attempt to take the innocent life of any human being or to instill fear and terror into their hearts," they said in a statement.
Australian Prime Minister Tony Abbott convened a national security meeting to deal with the "disturbing" development.
About six hours into the siege, three men emerged from the popular cafe and ran from the building, two from the front door and one from an emergency exit.
About an hour later two distraught women also fled. It was not clear if they escaped or were released.
One was barista Elly Chen, whose sister Nicole said on Facebook: "Yessss I finally see you. I'm so glad you're safe!!!!"
As the siege neared its 12th hour last night, basic questions remained unanswered. Police refused to say how many hostages were inside the cafe, what they believed the gunman's motives might be or whether he had made any demands.
They also did not rule out the possibility that there might be more than one suspect inside.
"I would like to give you as much as I can, but right now that is as much as I can," New South Wales Police commissioner Andrew Scipione said. "First and foremost, we have to make sure we do nothing that could in any way jeopardize those still in the building."
Police were negotiating with a suspect and said they had no information to suggest that anyone had been hurt.
Scipione said they had not confirmed whether the siege was related to terrorism.
"Our only goal tonight and for as long as this takes is to get those people that are currently caught in that building out of there safely," he said.
Channel 10 news said it received a video in which a hostage inside the cafe had relayed demands by the gunman. The station said police requested they not broadcast it, and Scipione separately asked all media outlets that might be contacted by the man to urge him to talk to police instead.
The incident began at about 9:45am in Martin Place, a plaza in the heart of the city's financial and shopping district that is packed with holiday shoppers this time of year.
Television video shot through the cafe's windows showed several people with their arms in the air and hands pressed against the glass, and two people holding up a black flag with the Shahada written on it.
"I walked up to the door and then everyone was sitting down and the door's locked which is pretty weird because it's never locked and there was one guy walking around with a hat and a beard," a man who identified himself as Bruno, a worker at the cafe, told the Australian Broadcasting Corp, referring to the suspected assailant. He said he then turned away.
Seven Network television news staff watched the gunman and hostages for hours from a fourth floor window of their Sydney offices, opposite the cafe.
The suspect could be seen pacing back and forth past the cafe's four windows. Reporter Chris Reason said the man carried what appeared to be a pump-action shotgun, was unshaven and wore a white shirt and a black cap.
Earlier in the day, network staff counted about 15 different faces among hostages forced up against the windows.
"The gunman seems to be sort of rotating these people through these positions on the windows with their hands and faces up against the glass," Reason said in a report from the vantage point. "One woman we've counted was there for at least two hours — an extraordinary, agonizing time for her surely, having to stand on her feet for that long."
"Just two hours ago when we saw that rush of escapees, we could see from up here in this vantage point the gunman got extremely agitated as he realized those five had got out. He started screaming orders at the people, the hostages who remain behind," Reason said.
St Vincent's hospital spokesman David Faktor said a male hostage was in satisfactory condition in the hospital's emergency department. He was the only one of the freed hostages to be taken to a hospital, and Scipione said he was being treated for a pre-existing condition.
Hundreds of police blanketed the city, streets were closed and offices evacuated. The public was told to stay away from Martin Place, site of the state premier's office and the Reserve Bank of Australia. The state parliament house is a few blocks away.
Additional reporting by Reuters
Comments will be moderated. Keep comments relevant to the article. Remarks containing abusive and obscene language, personal attacks of any kind or promotion will be removed and the user banned. Final decision will be at the discretion of the Taipei Times.