Journal pulls article over doubts
The Ministry of Science and Technology yesterday said that leading international scientific journal Nature Nanotechnology has decided to retract from its Web site an article penned by National Chiao Tung University professor Steven Huang (黃國華) and his student Chen Yu-hsiun (陳昱勳) on DNA polymerase genome sequencing over doubts from international academic circles about the validity of the pair's research.
Deputy Minister of Science and Technology Lin Yi-bing (林一平) said the ministry earlier this week received an e-mail from the journal's staff about the decision.
He said that an ad hoc task force at the ministry probing the case deemed the research "highly likely to be forged" and has made a suggestion to the ministry's academic ethics committee to punish Huang and Chen, asking that the pair's right to apply for any further project overseen by the ministry be suspended for 10 years and five years respectively.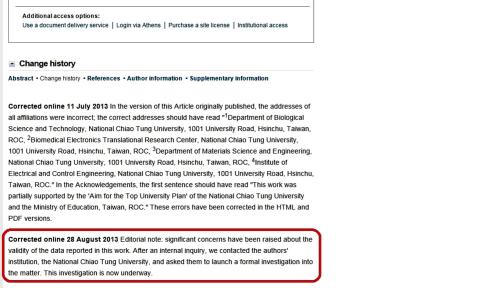 The Nature Nanotechnology Web site shows a note concerning the retraction of an article penned by National Chiao Tung University professor Steven Huang and his student Chen Yu-hsiun. The Ministry of Science and Technology yesterday confirmed that the article had been retracted due to doubts over its veracity.
Screen grab from Nature Nanotechnology Web site
"Huang and Chen were unable to replicate the results of their project and failed to present the tools they claimed to use," Lin said.
Arrangements are being made for the committee to convene, and the pulling of the pair's article would greatly influence the verdict; however, it is still premature for any conclusions to be made, he said.
Huang and Chen last year submitted the writing on their research, which Huang claimed would greatly speed up the process of virus genome sequencing — from at least one day for every virus to one hour — thus significantly reducing the time and cost required for developing new vaccines and antivirals.
Huang said that his method was "more affordable, accurate and faster" compared with traditional means.
However, since the duo's research was published by the journal in May last year, academics worldwide have called into question its methodology and legitimacy, saying that its results were "too perfect."
"The data looks so good that others are wondering whether [the] researchers had help from God. If not, their paper would be worthy of Nobel Prizes from all branches of science. Strangely none of those critical breakthroughs are described in the paper," said an unnamed contributor on online bioinformatics blog Homolog.us.
Other critics of the allegedly forged research include US scientist Stuart Lindsay, a professor of single molecule biophysics at Arizona State University, who questioned the "superconducting materials" the duo claimed to use to simulate the qualities of DNA polymerases — enzymes in human cells that are essential for DNA replication — saying: "None of us know of a superconducting material that works at the same temperature as a polymerase."
Superconductors work at temperatures well below freezing, with even superconductors that operate at higher temperatures only beginning to react at about -135?C, while polymerases generally operate at about room temperature, he said.
Huang and Chen could not be reached for comment.
Comments will be moderated. Keep comments relevant to the article. Remarks containing abusive and obscene language, personal attacks of any kind or promotion will be removed and the user banned. Final decision will be at the discretion of the Taipei Times.