Typhoon Hagupit kills two, weaker than feared
CLOSE CALL: With 800,000 people in shelters, and floods likely, the Philippine government said it was too soon to relax, as the typhoon moves toward the nation's center
Typhoon Hagupit knocked out power, mowed down trees and sent more than 800,000 people into shelters before it weakened yesterday, sparing the central Philippines from the type of devastation that a monster storm brought to the region last year.
Shallow floods, damaged homes, ripped-off store signs and tin roofs were a common sight across the region — amid late reports of two confirmed deaths — but Hagupit slammed into Eastern Samar and other island provinces with much less force than other recent storms.
It was packing maximum sustained winds of 140kph and gusts of 170kph — considerably weaker from its peak power, forecasters said.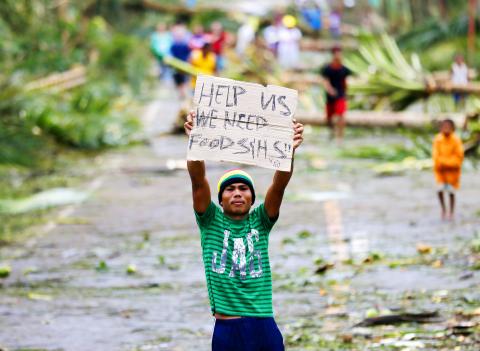 A resident pleads for help in the town of Taft on Samar Island, Philippines, yesterday.
Photo: EPA
The typhoon — which made landfall in Eastern Samar late on Saturday — was moving slowly, dumping heavy rain that could possibly trigger landslides and floods.
Traumatized by Typhoon Haiyan's widespread deaths and destruction, more than 800,000 people fled to about 1,000 emergency shelters and safer grounds. The Philippine government, backed by the 120,000-member military, had launched massive preparations to attain a zero-casualty target.
Rhea Estuna, a 29-year-old mother of one, fled on Thursday to an evacuation center in Tacloban — the city hardest-hit by Haiyan last year — and waited in fear as Hagupit's wind and rain lashed the school where she and her family sought refuge. When she peered outside yesterday, she said she saw a different aftermath than what she witnessed last year after Haiyan.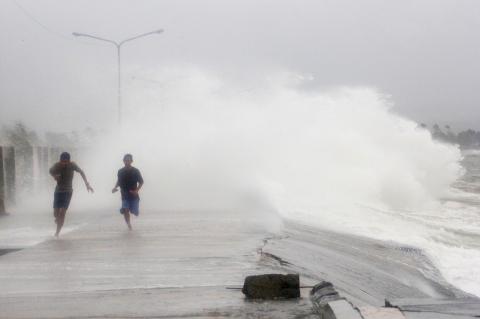 Residents run from strong waves brought yesterday by a typhoon at a coastal village in Legazpi, Albay Province, Philippines.
Photo: EPA
"There were no bodies scattered on the road, no big mounds of debris," Estuna told reporters by cellphone. "Thanks to God this typhoon was not as violent."
Haiyan's tsunami-like storm surges and killer winds left thousands of people dead and leveled entire villages, most of them in and around Tacloban.
Authorities were verifying reports of some deaths, but none had been confirmed so far, Philippine disaster-response agency head Alexander Pama told reporters.
Displaced villagers were asked to return home from emergency shelters in provinces where the danger posed by the typhoon had waned, including Albay, where more than half a million people were advised to leave evacuation sites.
While officials expressed relief, they were quick to warn that Hagupit — Filipino for "smash" or "lash" — was still on course to barrel across three major central islands before starting to blow away into the South China Sea tomorrow.
"It's too early to tell," Philippine Red Cross secretary-general Gwendolyn Pang said. "Let's cross our fingers that it will stay that way. It's too close to Christmas."
Comments will be moderated. Keep comments relevant to the article. Remarks containing abusive and obscene language, personal attacks of any kind or promotion will be removed and the user banned. Final decision will be at the discretion of the Taipei Times.