Candidates, voters register for Taipei labor director
OPEN GOVERNMENT: Instead of appointing a labor chief, Ko Wen-je has opened the position to volunteer candidates who will be decided by an online vote
More than 100 people have signed themselves up as candidates for the "i-voting" system that independent Taipei mayor-elect Ko Wen-je (柯文哲) is establishing to allow people to vote for the future director of the Taipei Department of Labor, while more than 10,000 have registered as voters.
Normally, the mayor of a city would appoint the head of the labor department, but to fulfill a campaign promise to establish an "open government" with "the participation of all," Ko has devised a mechanism to open the position to members of the public and for people to vote to decide who should fill the position.
Ko said he came up with the idea because "I believe that the wisdom of the public will always work better than the wisdom of one, instead of having the mayor and a small circle of people around the mayor decide who should serve in what position."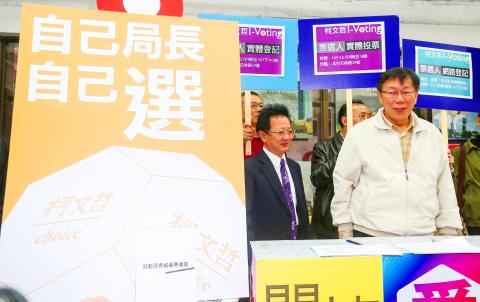 Taipei mayor-elect Ko Wen-je, right, explains the I-Voting system the city is to use to select the next director of the Taipei Department of Labor, at a press conference in Taipei yesterday.
Photo: CNA
Speaking at a press conference at his campaign headquarters, Ko said an online system has been put into operation since Monday to accept registration by candidates and voters until 5pm on Sunday.
"We have a panel of 30 — made up of unionists — who will pick five people from those who volunteered for the position, and registered voters will be able to vote for their choice of Department of Labor director among the five candidates," Ko said.
Besides transparency, Ko said the mechanism would help to ease pressure on him, "because since my election, there have been many people trying to talk me into appointing people for positions."
Democratic Progressive Party (DPP) Legislator Lee Ying-yuan (李應元), who serves as the secretary-general of a platform to facilitate communications between Ko and the DPP, said that since not everyone is familiar with online voting, Ko's campaign headquarters would serve as a polling station for registered voters who prefer to cast their votes in person.
"So far, there are more than 100 people who have signed up as candidates, and more than 10,000 have registered as voters," Lee said. "These candidates will have to elaborate their policy ideas in writing and will be interviewed by the panel. We will then pick five as the final candidates."
However, Ko said that while those who apply to be candidates or voters have to enter their national ID numbers, they have no authority to verify the ID numbers or the identities of those people, and therefore, every person with a Republic of China national ID — whether or not they are a resident of Taipei — could cast a vote.
The media have tested the system and succeeded in having one person register three voting accounts.
Asked if he has any measures to prevent fraud, Ko said it would depend purely on honesty and trust among the voters.
Comments will be moderated. Keep comments relevant to the article. Remarks containing abusive and obscene language, personal attacks of any kind or promotion will be removed and the user banned. Final decision will be at the discretion of the Taipei Times.