Ma to resign as KMT chairman today
END OF AN ERA: After nearly a decade at the party's helm, Ma is to pass the reigns to someone else in what he termed a way of 'taking responsibility' in a moment of crisis
President Ma Ying-jeou (馬英九) yesterday said he will resign as chairman of the Chinese Nationalist Party (KMT) when its Central Standing Committee meets today, following the ruling party's landslide defeat in the nine-in-one elections on Saturday.
"Although we did not win this battle, we cannot forfeit our ideals and values; although we lost an election, we cannot forfeit the trust of the people," Ma told party executives at a weekly meeting.
Ma's statement came a day earlier than expected, after reports on Sunday anticipated that he would make the "big announcement" today.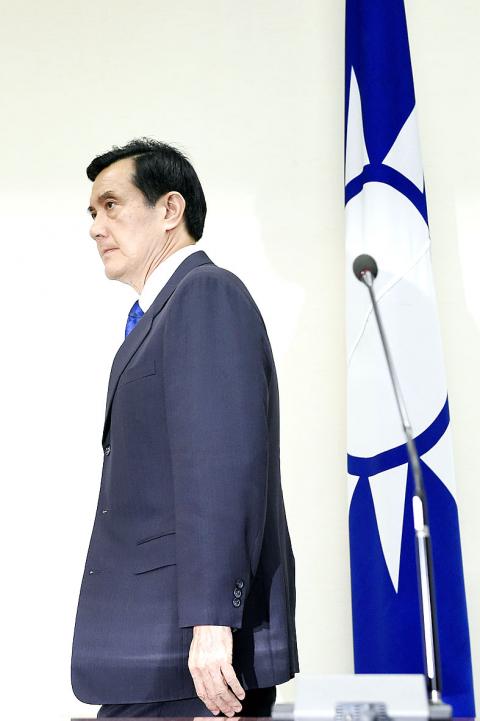 President Ma Ying-jeou stands next to a Chinese Nationalist Party (KMT) flag in Taipei on Saturday.
Photo: George Tsorng, Taipei Times
Ma yesterday said he was willing to shoulder responsibility for the KMT's loss as its chairman, urging members to remain calm and resolute in the face of defeat.
"I have absolutely no attachment to my position [as chairman]; what really matters is what is best for the KMT," Ma said. "I will officially resign as chairman of the Chinese Nationalist Party at the Central Standing Committee [meeting] on Dec. 3 [today]."
Ma said there is still hope for the KMT as long as it is willing to engage in reflection and reform.
"Since I became chairman in 2005, I have always made party reform and solidarity my utmost priorities, to not only fulfill the expectations of party members, but also those of the public," Ma said.
Although many changes have been made, the KMT's footsteps on reform have lagged behind the public's expectations, Ma said, adding that citizens' disappointment made him feel "ashamed."
"Passing on the baton to someone else at this crucial moment is also a form of taking responsibility," he added. "As I said when I first became party chairman nine years ago: '[The position is] devoid of riches and glory, with only heavy burdens to carry.' This saying remains true to this day."
Meanwhile, New Taipei City Mayor Eric Chu (朱立倫), a KMT vice chairman who narrowly won re-election, refused to comment on his prospects of becoming KMT chairman.
"Hasn't the KMT suffered a bad enough defeat?" Chu said, urging fellow party members to refrain from "jostling for positions of power" at the moment.
"We should not give the impression that the KMT is still embroiled in infighting for this position," Chu said as he fended off inquiries from reporters.
Amid speculation that Vice President Wu Den-yih (吳敦義) was likely to run for party chairman, Wu took many by surprise when he announced on Monday that he was stepping down as a vice chairman and that he will not throw his hat into the chairmanship race.
Wu and Taipei Mayor Hau Lung-bin (郝龍斌) — two of seven KMT vice chairpeople — have quit their posts to take responsibility for the election defeat.
Greater Taichung Mayor Jason Hu (胡志強), another vice chairman, has urged his colleagues to stay on in their posts at a time when the party is demoralized.
Hu lost his re-election bid.
Additional Reporting by Lai Hsiao-tung
Comments will be moderated. Keep comments relevant to the article. Remarks containing abusive and obscene language, personal attacks of any kind or promotion will be removed and the user banned. Final decision will be at the discretion of the Taipei Times.