Former Egyptian president acquitted of murder charges
Protests erupted at universities across Egypt yesterday, condemning a court decision to drop criminal charges against former Egyptian president Hosni Mubarak, whose ouster in the 2011 uprising raised hopes of a new era of political openness.
Hundreds of demonstrators gathered at Cairo University, waving pictures of Mubarak behind bars and demanding the "fall of the regime," the rallying cry of the Arab Spring uprisings that shook governments from Tunisia to the Gulf in 2011.
Police stood ready at the gates to bar students that sought to take their demonstration into the streets.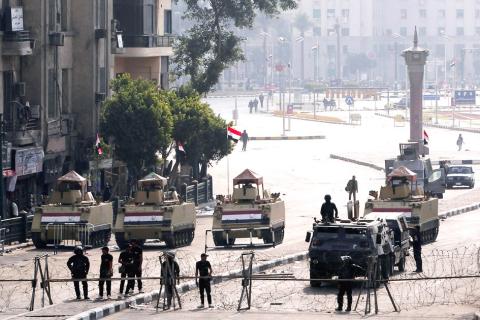 Egyptian army soldiers and armored vehicles yesterday block a road leading to Tahrir Square in Cairo, one day a court dismissed murder charges against former Egyptian president Hosni Mubarak.
Photo: EPA
A court on Saturday dropped its case against Mubarak over the killing of protesters in the 2011 uprising that ended his 30-year rule.
The ruling was seen by activists as the latest sign that the rights won during the revolt are being eroded.
On Saturday, about 2,000 young people protested the verdict near Cairo's Tahrir Square, the birthplace of the Arab Spring uprising. They chanted against the Egyptian military, which was once led by Egyptian President Abdel-Fattah al-Sisi.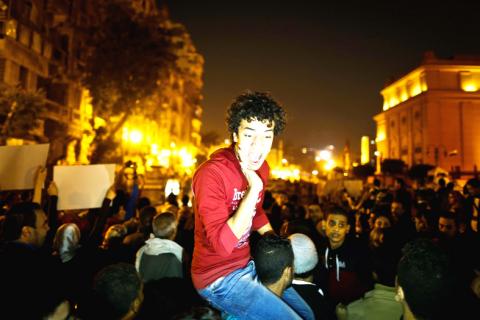 Egyptian protesters chant slogans in Tahrir Square in Cairo on Saturday to protest a court decision to acquit former Egyptian president Hosni Mubarak of murder charges.
Photo: AFP
"The people want to bring down the regime," they shouted, using one of the chief slogans in the 18-day, anti-Mubarak uprising.
In the evening, police broke up the gathering, firing water cannons and tear gas and driving protesters into side streets after supporters of the banned Muslim Brotherhood joined the protest.
An Egyptian Ministry of the Interior statement said that Brotherhood supporters pelted security forces with rocks and fought with the protesters.
Security officials, speaking on condition of anonymity because they were not authorized to brief reporters, said police arrested 29 people.
A statement from the Egyptian Ministry of Health early yesterday said one person was killed and nine were injured in the clashes.
The dispersal of protesters contrasted with the jubilant well-wishers who greeted Mubarak after the decision when he returned to his temporary home at a Nile-side military hospital. He later waved to supporters from his hospital window.
Comments will be moderated. Keep comments relevant to the article. Remarks containing abusive and obscene language, personal attacks of any kind or promotion will be removed and the user banned. Final decision will be at the discretion of the Taipei Times.