HK police clear protest camp, arrest student leaders
IN JAIL: Student leaders Joshua Wong and Lester Shum were arrested in Mong Kok, while seven police officers suspected of beating a protester were also detained
Hundreds of Hong Kong police yesterday cleared a pro-democracy protest camp, arresting Joshua Wong (黃之鋒) and another student leader, and reopening a main road blocked for almost two months.
Pushing back protesters, police with the help of workmen removed tents and other obstacles blocking the six-lane Nathan Road in Mong Kok district.
It is seen as the most significant move so far in efforts to clear away protest camps at three separate locations in the territory, as public sympathy with the demonstrators wanes.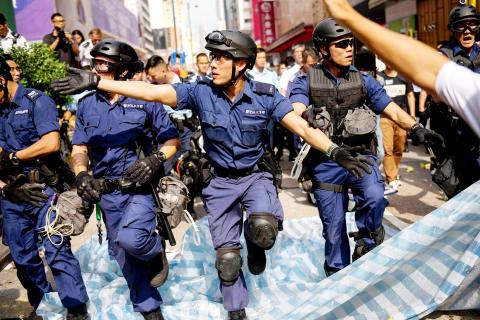 Police officers clear a pro-democracy protest camp in the Mong Kok district of Hong Kong yesterday.
Photo: AFP
Scuffles broke out earlier in the day as police wearing helmets and brandishing batons moved in to protect the workmen from the crowds that surged forward to try to stop them tearing down road barricades.
The operation went ahead a day after nearly 150 demonstrators were arrested as authorities cleared a smaller section of the Mong Kok protest camp.
Hundreds of police quickly pushed protesters back, and removed wooden and metal barricades, tents and other obstructions along a 500m stretch of Nathan Road.
About two hours after the operation started, only a handful of protesters remained at the edge of the site.
The movement's student leaders Wong and Lester Shum (岑敖暉) were arrested at the scene, according to protest group Scholarism and the Hong Kong Federation of Students.
A well-known protester and member of the League of Social Democrats, Raphael Wong (黃浩銘), who was arrested along with the pair, said on his Facebook page that they were being held at a police station.
"I am at the Kwai Chung police station, next to me is Joshua and Lester, we have been charged with contempt of court and obstructing public officers," Wong wrote. "It is possible we won't get bail tonight and will be at a magistrates' court tomorrow."
Police were unable to immediately give a reason why the three had been arrested when contacted.
Tensions were running high yesterday after scuffles the previous day when police used pepper spray on protesters at the site.
Mong Kok was the scene of some of the most violent clashes since the sit-ins began in the territory on Sept. 28.
Demonstrators are demanding fully free elections for the leadership of the semi-autonomous southern Chinese territory in 2017, but China has refused to budge on its arrangements for the poll.
Police said they arrested at total of 148 people, including a 14-year-old boy, in the two-day Mong Kok operation and that 22 police officers were injured.
Separately, seven police officers who were suspended after a video emerged of them beating and kicking a handcuffed man have been arrested.
"Police have arrested seven police officers suspected of assault causing bodily harm," police said in a statement late yesterday, adding that investigations were ongoing.
The video that emerged last month showed plainclothes officers hauling a handcuffed and unarmed demonstrator to a dark corner of a protest-hit public park.
One officer stands over the man and punches him, as three others are seen repeatedly kicking him.
Comments will be moderated. Keep comments relevant to the article. Remarks containing abusive and obscene language, personal attacks of any kind or promotion will be removed and the user banned. Final decision will be at the discretion of the Taipei Times.