Vietnam hails ease on arms sales ban
Vietnam yesterday welcomed a decision by the US government to ease a ban on lethal arms sales, saying it would benefit both nations.
The US announced on Thursday it was partially lifting the ban, a move intended to help Vietnam defend itself in the South China Sea, where it is among Asian nations facing an increasingly assertive China.
Vietnamese Ministry of Foreign Affairs deputy spokeswoman Tran Thi Bich Van said in a statement that her government welcomes any step that aims to promote the Vietnam-US partnership.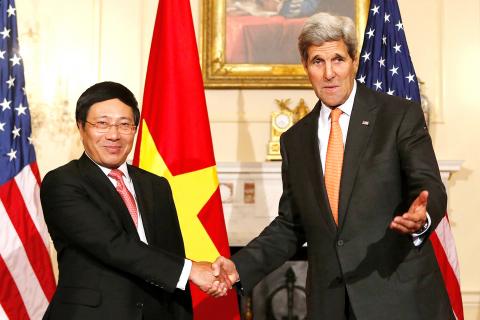 U.S. Secretary of State John Kerry, right, shakes hands with Vietnamese Deputy Prime Minister and Foreign Minister Pham Binh Minh before a working lunch at the State Department in Washington on Thursday.
Photo: Reuters
US State Department spokeswoman Jen Psaki told reporters that the US would now allow sales of lethal maritime security capabilities and for surveillance on a case-by-case basis.
US officials said the deals could include boats and air assets, particularly for Vietnam's coast guard.
The US has not transferred lethal arms to Vietnam since communists took power at the end of the Vietnam War. A 1984 embargo prohibited arms sales because of concern over the Vietnamese government's human rights record.
US officials say the easing of the ban recognized steps taken by Hanoi to improve human rights, including the release of 11 prisoners of conscience this year and progress on religious freedom.
Relations between the US and Vietnam were normalized in 1995, two decades after the war's end. Washington approved non-lethal arms sales in 2006, and ties have since deepened further, particularly as the administration of US President Barack Obama has sought to expand US engagement in Asia.
Despite fraternal ties between the ruling parties of Vietnam and China, tensions spiked this year after China deployed a deep-sea oil rig near the disputed Paracel Islands (Xisha Islands, 西沙群島), which Beijing occupied from Vietnam in 1974. Taiwan also claims the islands.
"What's driving this is not a sudden desire to transfer military equipment to Vietnam writ large, but a specific need in the region," said one US official, highlighting what he called Vietnam's lack of capacity in the disputed waters and the US' own national security interests. "It's useful in trying to deal with the territorial disputes in the South China Sea to bolster the capacity of our friends in the region to maintain a maritime presence in some capacity."
About 40 percent of the world's seaborne trade passes through the sea which is claimed in part by Taiwan, Vietnam, Brunei and Malaysia, as well as China and the Philippines.
A prohibition on sales of other kinds of lethal weapons, such as tanks, remains in place as Washington pushes Hanoi to improve its human rights record.
Comments will be moderated. Keep comments relevant to the article. Remarks containing abusive and obscene language, personal attacks of any kind or promotion will be removed and the user banned. Final decision will be at the discretion of the Taipei Times.