Health minister quits over lard scandal
GROUP INDICTED: The Pingtung District Prosecutors' Office indicted eight men on fraud and food safety charges, including Chang Guann chairman Yeh Wen-hsiang
Minister of Health and Welfare Chiu Wen-ta (邱文達) resigned late yesterday to take political responsibility for the tainted lard oil scandal that has hit the local food industry and tarnished Taiwan's international image as a "food paradise."
"I express my sincere apology for the unease the oil scare has caused the public," Chiu told a press conference at the ministry building in Taipei at 8pm.
"I also want to show my gratitude for the devotion to service the ministry has shown during my tenure, such as implementing the second-generation National Health Insurance program, promoting medical diplomacy and playing an active role in the World Health Assembly," he said.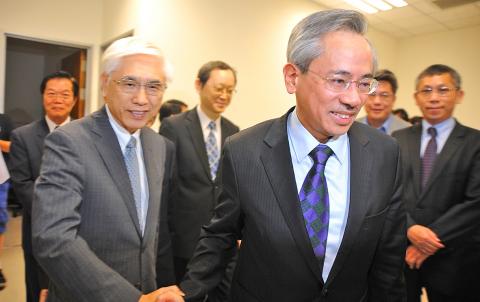 Outgoing Minister of Health and Welfare Chiu Wen-ta, front right, shakes hands with Deputy Minister Lin Tzou-yien, front left, at the ministry building in Taipei yesterday after announcing his resignation.
Photo: Liu Hsin-de, Taipei Times
Chiu said there are no longer any substandard lard oil products on store shelves and that the Pingtung District Prosecutors' Office's indictment of all responsible parties yesterday has at last put an end to the scandal.
"Hence, today I deliver on my promise to not cling to my post after ensuring that the oil scare was properly handled," Chiu said, adding that he has plans to return to his former profession as a neuroscience researcher and medical instructor.
The 64-year-old physician-turned-politician served as Taipei Medical University president and professor for many years, and was best known to the public for promoting legislation on bicycle helmets, aimed at decreasing the number of brain injuries and accidental deaths.
During his tenure as minister since September 2011, the country suffered three other major food scares: a plasticizer food scare that year, a starch scandal and an adulterated cooking oil scare last year.
Meanwhile, Food and Drug Administration (FDA) Director-General Yeh Ming-kung (葉明功) has been transferred from his position due to the lard oil incident, the Executive Yuan said.
Yeh's position would be temporarily taken over by FDA Deputy Director-General Chiang Yu-mei (姜郁美), the Executive Yuan said.
Earlier yesterday, eight people, who are operators and company executives involved in the scandal, were indicted by the Pingtung District Prosecutors' Office on fraud charges and food safety violations.
Among the eight, Yeh Wen-hsiang (葉文祥), chairman of cooking oil maker Chang Guann Co (強冠企業) in Greater Kaohsiung; the company's deputy general manager Tai Chi-chuan (戴啟川); Kuo Lieh-cheng (郭烈成), who ran an unlicensed cooking oil recycling operation in Pingtung County that was an upstream supplier of tainted oil to Chang Guann; and Kuo's assistant, Shih Min-yu (施閔毓), were indicted on 235 counts of fraud in terms of the Act Governing Food Safety and Sanitation (食品安全衛生管理法), the prosecutors' office said.
Head prosecutor Yang Wan-li (楊婉莉) said the four men played the main roles in the scandal, as they had supplied tainted oil to 235 downstream companies.
Comments will be moderated. Keep comments relevant to the article. Remarks containing abusive and obscene language, personal attacks of any kind or promotion will be removed and the user banned. Final decision will be at the discretion of the Taipei Times.