Indigenous TV chief director resigns over conflict on media independence
Aboriginal activist Mayaw Biho yesterday abruptly resigned as chief director of the state-run Taiwan Indigenous Television (TITV), accusing the station's chairperson and board directors of interfering in the network's editorial independence and operations.
"I regret that, prior to the 18th meeting of the board of directors today [yesterday], I have decided to resign as chief director of the station, because I have many doubts about TITV's mission and structure, and these doubts are getting bigger and bigger, to the extent that they have affected the daily operation of the station," Mayaw said on Facebook yesterday.
"I apologize to all those who have worked with me in the past year, especially those who had given up better opportunities to do so," he said.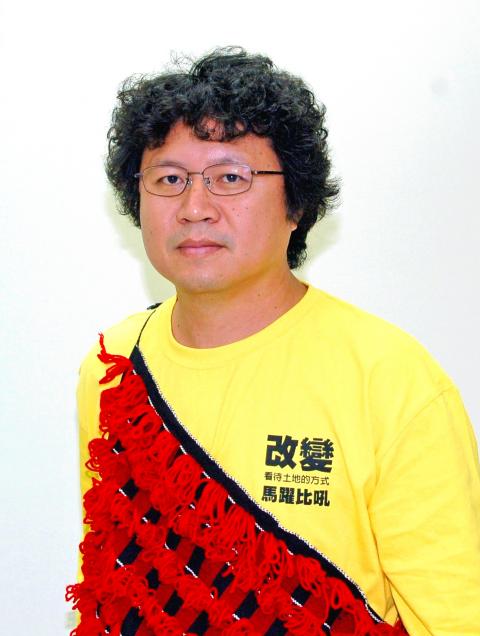 An undated photo shows Aboriginal activist Mayaw Biho, who yesterday resigned as chief director of state-run Taiwan Indigenous Television due to conflict with the station's board.
Photo: Chen Ching-min, Taipei Times
Mayaw said that under the administration of the Indigenous Peoples Cultural Foundation, TITV's objectives have become focused on preserving and promoting Aboriginal culture and education, while neglecting its other duties.
"We may have fulfilled our duty of providing education and entertainment for the nation's Aborigines, but we have failed to serve as a watchdog and messenger," he wrote.
For instance, Mayaw said, besides broadcasting news about cultural events, TITV should provide more coverage and critique of public issues related to Aborigines.
"To solve the problem, I think it is important to establish a system, to make a law to regulate TITV. We have a law on public broadcasting systems, but we also need separate legislation for TITV, which was spun off from Taiwan Broadcasting System last year," Mayaw said.
"In countries that have independent TV stations for Aboriginal populations, such as Canada and New Zealand, there are separate laws governing those stations," he said.
He also accused TITV's board and chairperson Mayaw Fotol of being "unfriendly" and trying to reduce the TV station's media independence, but declined to reveal more details.
Mayaw Fotol said that the board had received Mayaw Biho's letter of resignation the night before, but would not comment until the board has discussed the matter.
"We respect his right to say what he has to say, but at the moment, he is still the chief director of the station and is welcome to take part in board meetings if he wishes," Mayaw Fotol said.
Mayaw Biho, a documentary director and former legislative candidate, surprised many when he became TITV's first chief director last year after its spinoff from Taiwan Broadcasting System.
Comments will be moderated. Keep comments relevant to the article. Remarks containing abusive and obscene language, personal attacks of any kind or promotion will be removed and the user banned. Final decision will be at the discretion of the Taipei Times.