France carries out its first airstrikes against IS in Iraq
France carried out its first air strike against the Islamic State (IS) group in Iraq yesterday, boosting US-led efforts to unite the world against the growing threat posed by the extremists.
More than a decade after Paris famously refused to back the invasion of Iraq, France became the first nation to join the US aerial campaign in the war-torn country.
"This morning at 9:40, our Rafale planes carried out a first strike against a logistics depot of the terrorist organization Daesh [IS]," French President Francois Hollande said in a statement.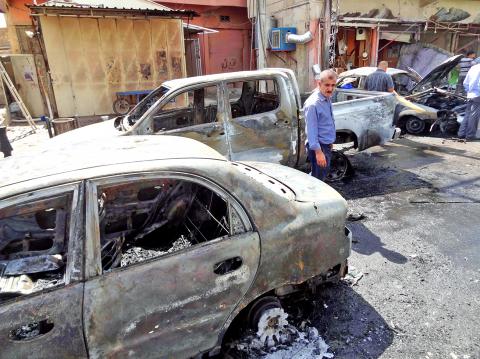 An Iraqi man walks past burnt cars following a motorcycle bombing attack which killed at least 8 people yesterday in the northern city of Kirkuk.
Photo: AFP
The statement from his office said the target was in northeastern Iraq, but did not specify exactly where, only adding: "The objective was hit and completely destroyed."
France, as well as Britain, had already sent aircraft into Iraq's skies for surveillance missions, but yesterday's strike was its first offensive operation against the terrorists.
US aircraft have carried out more than 170 strikes since Aug. 8, but US President Barack Obama has been keen to build a broad international coalition.
The bombing campaign was launched to protect Iraqi Kurdistan from advancing extremists and attempt to help the autonomous region's troops retake the ground they lost.
The US leader has pledged to support Kurdish and Iraqi federal forces by offering air support and arms, as well as targeting intelligence and training.
On Thursday the US Congress backed his plan to arm rebels to take on IS in conjunction with airstrikes Obama has pledged to carry out inside Syria.
"These terrorists thought they could frighten us, or intimidate us, or cause us to shrink from the world," he said, after a rare moment of bipartisanship in the US House of Representatives.
"But today they're learning the same hard lesson of petty tyrants and terrorists who have gone before," Obama added.
As Kurdish and Iraqi federal forces, backed by expanding airstrikes, continued to make slow progress on Iraq's various frontlines, Baghdad was rocked by a series of bomb attacks.
In a Shiite-dominated district, militants blew up two car bombs and lobbed mortar rounds late on Thursday in what some said was an attempt to target an army intelligence base where senior IS members are held.
Another car bomb killed at least eight people in a busy central neighborhood yesterday, security and medical officials said.
In the city of Kirkuk, further north, another bombing killed eight people and wounded 13.
In Syria, IS fighters were closing in on the country's third-largest Kurdish town of Ain al-Arab, or Kobane, on the Turkish border, cutting off its Kurdish militia defenders, a monitoring group said.
"IS fighters have seized at least 21 villages around Kobane," Syrian Observatory for Human Rights head Rami Abdel Rahman said. "The IS is using heavy weaponry, its artillery and tanks."
The town is one of three Kurdish majority districts where Kurdish nationalists have proclaimed self-rule and its capture would give the extremists control of a long stretch of the Turkish border.
Syria's exiled opposition National Coalition warned of "the danger of a massacre" in the area, where Kurdish militia have doggedly resisted the extremists.
Comments will be moderated. Keep comments relevant to the article. Remarks containing abusive and obscene language, personal attacks of any kind or promotion will be removed and the user banned. Final decision will be at the discretion of the Taipei Times.