Alleged cop killer turns himself in
One of the main suspects in the beating death of a police detective in Taipei early on Sunday morning turned himself in to the authorities yesterday after a manhunt by police.
Wan Shao-cheng (萬少丞), a member of a local gang who allegedly played a key role in beating police detective Hsueh Chen-kuo (薛貞國) to death outside a high-end nightclub, reported to the Taipei Police Department accompanied by an attorney.
He was still being questioned by police as of press time last night.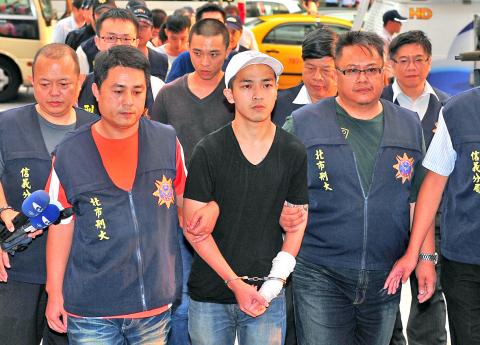 The main suspect in the killing of late police detective Hsueh Chen-kuo, Wan Shao-cheng, in handcuffs, is escorted into the Xinyi Precinct of the Taipei City Police Department for further questioning yesterday.
Photo: Chien Jung-fong, Taipei Times
An initial investigation by police identified 15 individuals, including Wan, who were suspected of being involved in the killing of Hsueh, who was beaten to death by a mob of about 50 people outside the Spark ATT nightclub in Xinyi District (信義).
Police say that Wan and another gang member, Chou Yu-teng (周譽騰), allegedly incited the mob to beat up Hsueh. Chou is still at large.
A couple identified as using social messaging app Line to gather more than 50 alleged gang members outside the club after having a dispute with the club's security personnel were detained and were being held incommunicado.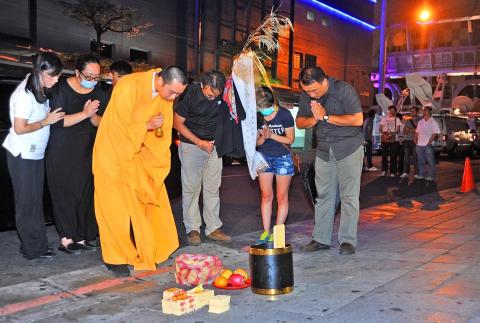 A Buddhist monk presides over a ceremony yesterday to call back the dead spirit of former police detective Hsueh Chen-kuo, who was beaten to death by a mob on Sunday outside the Spark ATT nightclub in Taipei's Xinyi District. Hsueh's wife, second right, prays along with other family members.
Photo: Liu Hsin-de, Taipei Times
Meanwhile, local media reports had previously raised questions about the conduct of Hsueh's commanding officer Cheng Hung-chen (鄭宏振), head of the Xinyi District Police Precinct investigation unit.
Cheng was reportedly in the same building as Hsueh on the night of his death, holding a birthday party at the nightclub Club Myst.
Media reports raised questions about his party's funding and guests, as well whether the party was the reason for Hsueh being on-site.
Taipei City Government Police Department head Huang Sheng-yung (黃昇勇) told a press conference yesterday that an investigation showed there "was no relation" between Cheng's party and Hsueh's presence.
However, he added that Cheng's party had violated department rules.
"[At Cheng's party] there were several characters with whom police officers should not be consorting," Huang said. "The result of the investigation is that he needs to be disciplined."
The department said Cheng was reprimanded for his behavior.
The department did not reveal the names and background of the people with whom he was "consorting" and said it had not found evidence of inappropriate funding for his party.
Earlier yesterday at a meeting on public safety, Taipei Mayor Hau Lung-bin (郝龍斌) said the city government would take steps to ensure the safety of the city's nightclubs, adding that bars and nightclubs had become places for triad members to congregate.
"We will not allow nightclubs to undermine public safety," Hau said. "Nightclubs have a duty to cooperate with the police for the maintenance of public safety. If there are concerns about public safety or cases where nightclubs do not cooperate, we will increase the severity of our investigation to the full extent of the law."
Meanwhile, Premier Jiang Yi-huah (江宜樺) has instructed the Ministry of the Interior to launch a nationwide crackdown on crime by notifying all police departments to step up inspections on pubs, bars and discos.
The ministry said the crackdown would be conducted in three stages, but the main focus is to put all locations where gangs are known to operate under surveillance, and have inspections on all pubs, bars, KTV parlors and nightclubs not already under surveillance.
Additional reporting by staff writer
Comments will be moderated. Keep comments relevant to the article. Remarks containing abusive and obscene language, personal attacks of any kind or promotion will be removed and the user banned. Final decision will be at the discretion of the Taipei Times.